Your hairs are one of the most important assets that define your appearance. The best hair dryer for women in India beautifies you in the best possible way and directly makes the first impression on others and brings out your personality.
Statistics show that women spend around fifty minutes per day on dressing hair and applying makeup. They may have different things to do with their hair like setting curls, highlighting layers, blow-dry hair, etc. To do all of these to fine-tune your hair, you need a Hair Dryer.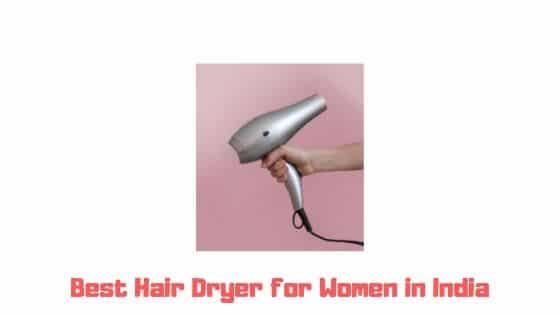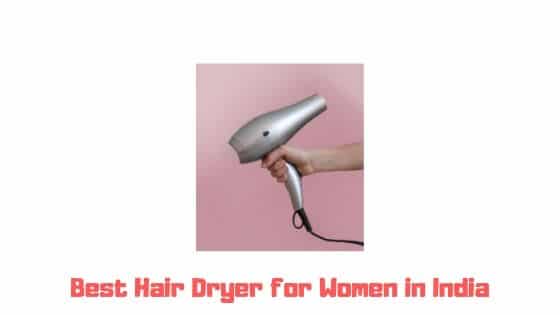 Nowadays, hairdryers are not considered as a fancy tool but rather a convenient accessory to set your hair. They save time and get the job done in a matter of minutes. But when the market is flooded with so many varieties of hairdryers, it becomes really difficult to choose the best from the rest.
But don't worry! We have researched a lot and set aside a few best hair dryers for women. This Top 5 list of the best hair dryer for women in India will help you narrow down your search.
List of Top 5 Best Hair Dryer for Women in India
1. Philips Hair Dryer – Folding Handle
This product Philips HP8120/00 Hair Dryer (Pink) has bagged the 1st position in our list of Top 5 best hair dryer for women in India. Besides looking fashionable, this product will get the job done in the best possible way.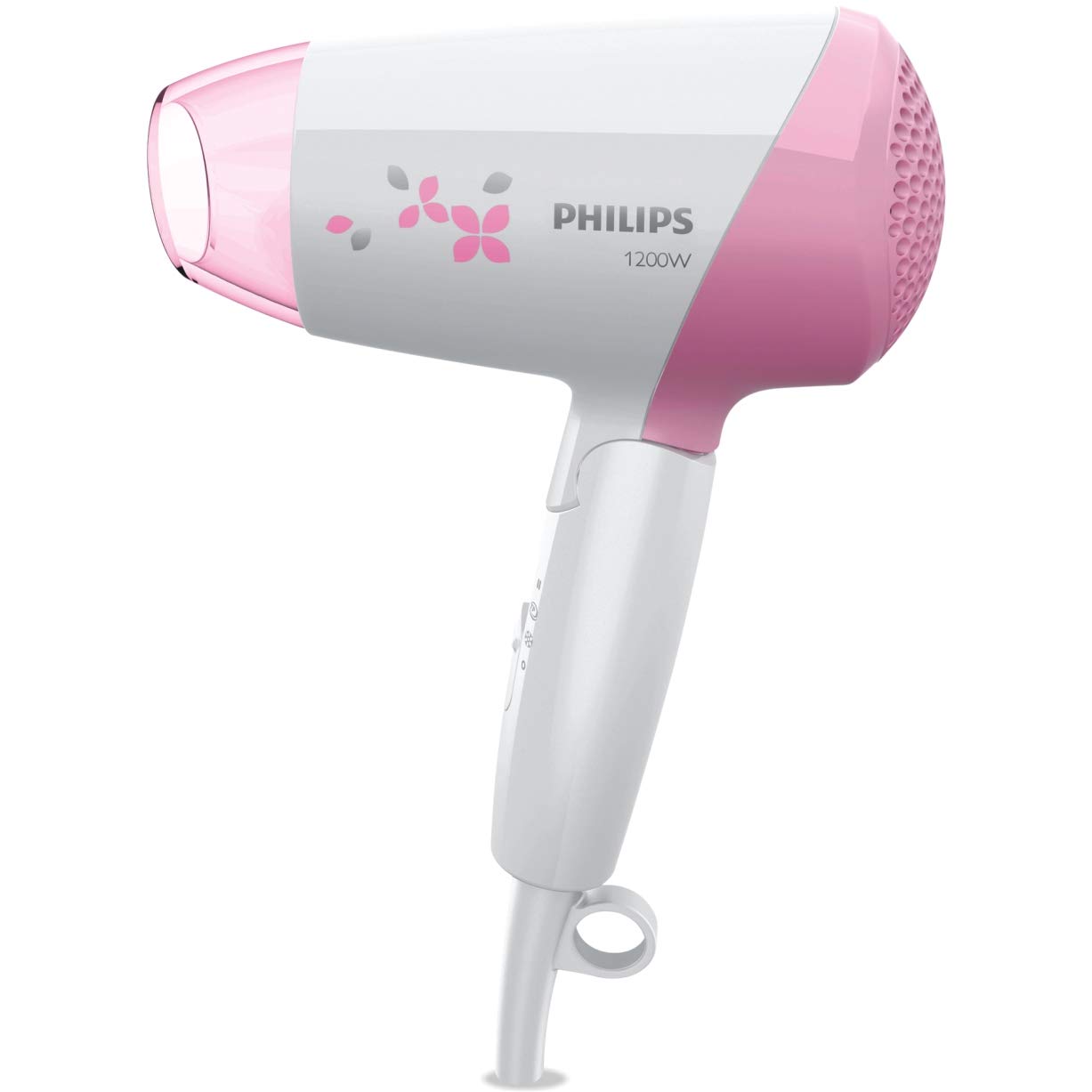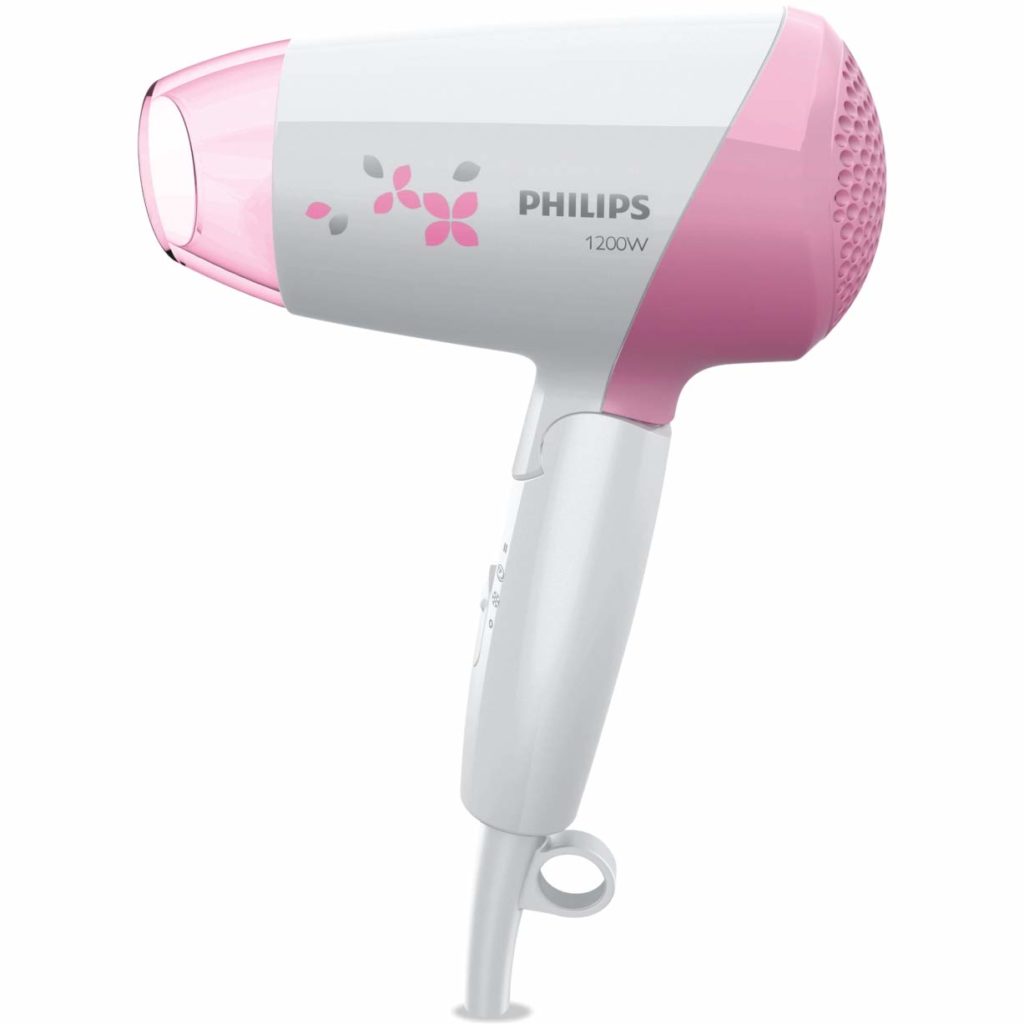 You cannot stop admiring this beautiful and Stylish-Looking Hairdryer! This new hairdryer from Philips is adorable, Compact and yet powerful. With a power rating of 1200W, this hair dryer helps you to dry your hair gently, quickly and efficiently. You can even fold it for ease of portability.
LESS HAIR DAMAGE
This product comes with a built-in Thermo Protect Temperature feature. With this technology in place, you can be assured that you will get optimal hair drying without overheating your hair. Hence there is no question of hair damage.
This hair dryer from Philips has a Balanced Airflow that goes directly at your inner hair and dries them from the root. This gently drying technique with 3 Flexible Pre-Selected Drying Settings will help you achieve the perfect hair drying and caring you are looking for.
FOLDING HANDLE
The hairdryer comes with a Foldable Handle. When you don't need it or wish to carry somewhere along with you, just fold the handle gently to occupy lesser space, easy storage and increase portability.
In addition to the above features, there is also an oval-shaped concentrator that will direct the airflow at your hair, making them appear shinier and softer.
2. Syska Hair Dryer – Cool and Hot Air
In our list of Top 5 best hair dryers for women in India on 2nd rank, we have SYSKA Hair Dryer HD1610 with Cool and Hot Air. It is another handy hairdryer with a decent look and efficient drying.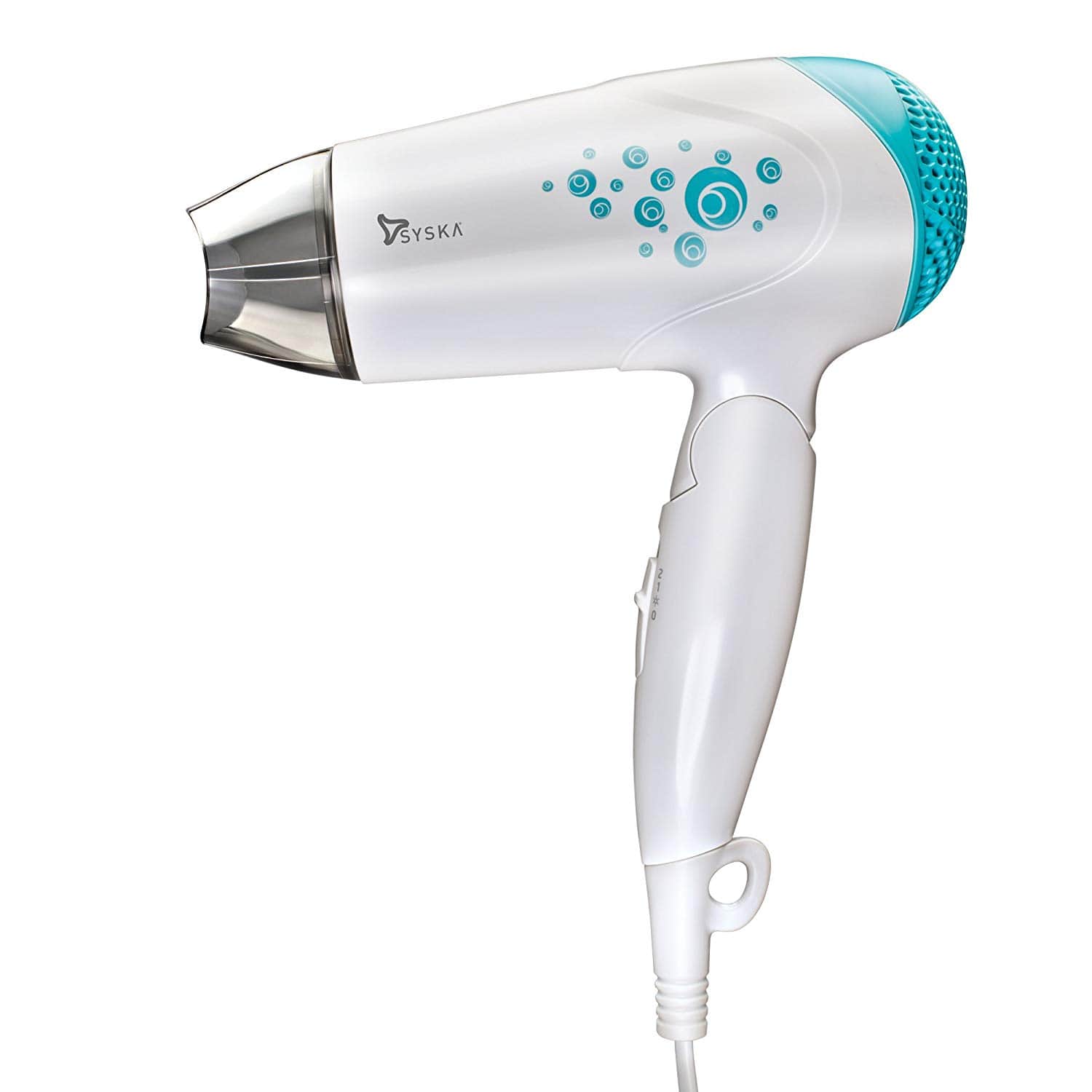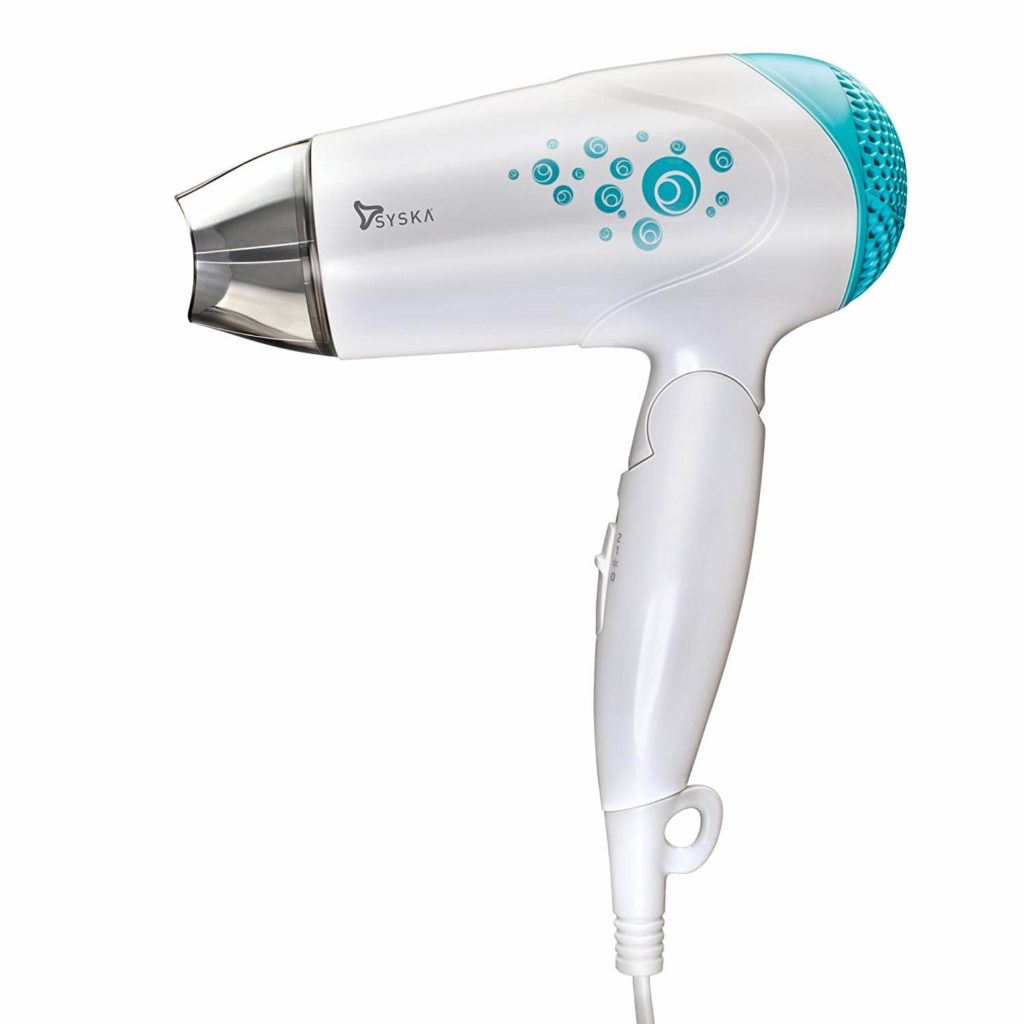 Besides being dominant in the LED market, Syska also offers other electronics and beauty products like this one. With the price tag being in the lower range, this hair dryer does not compromise on the quality and delivers the best in class performance.
HEAT BALANCE TECHNOLOGY
This hair dryer comes with an efficient Heat Balance Technology. It instantly heats up and dries your hair quickly, without wasting any time. With built-in Overheating Protection, it maintains hair moisture.
With a comfortable 1.6M Cord Length, the foldable handle also makes it portable. The big air inlet grill allows increased airflow and ergonomics of the dryer to improve the outflow of the air.
UNIFORM TEMPERATURE
Delivering a Uniform Temperature while drying hair is important for an effective hair setting. This helps to maintain natural moisture levels for your hair while applying a touch of shiny and healthy-looking hair.
This hairdryer from Syska has 1200W power which gets the job done. It has 2-speed settings, in addition to a cool air setting. And, it also makes lower noise.
3. Nova Hair Dryer – Longer Cord
On the 3rd Position of our Top 5 best hair dryer for women in India, we have Nova NHP-8200 (240V) 1800 Watts Hair Dryer for you. This elegant looking hairdryer is perfect for everyday use and also low cost.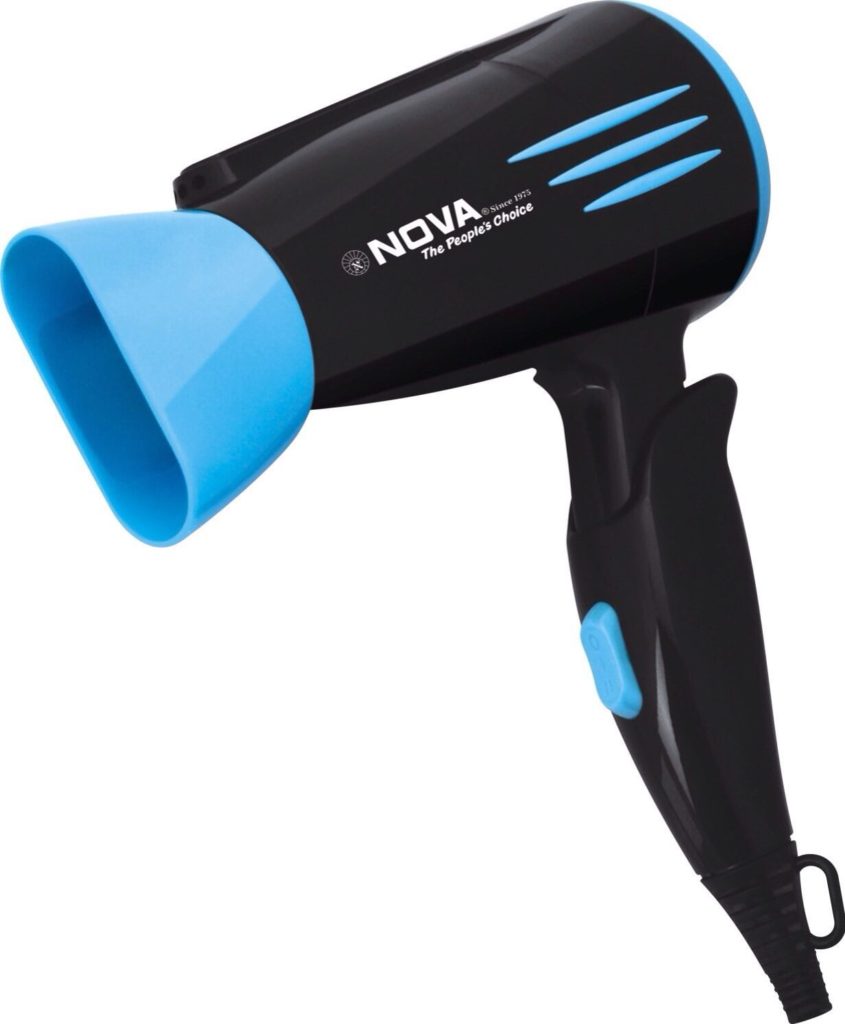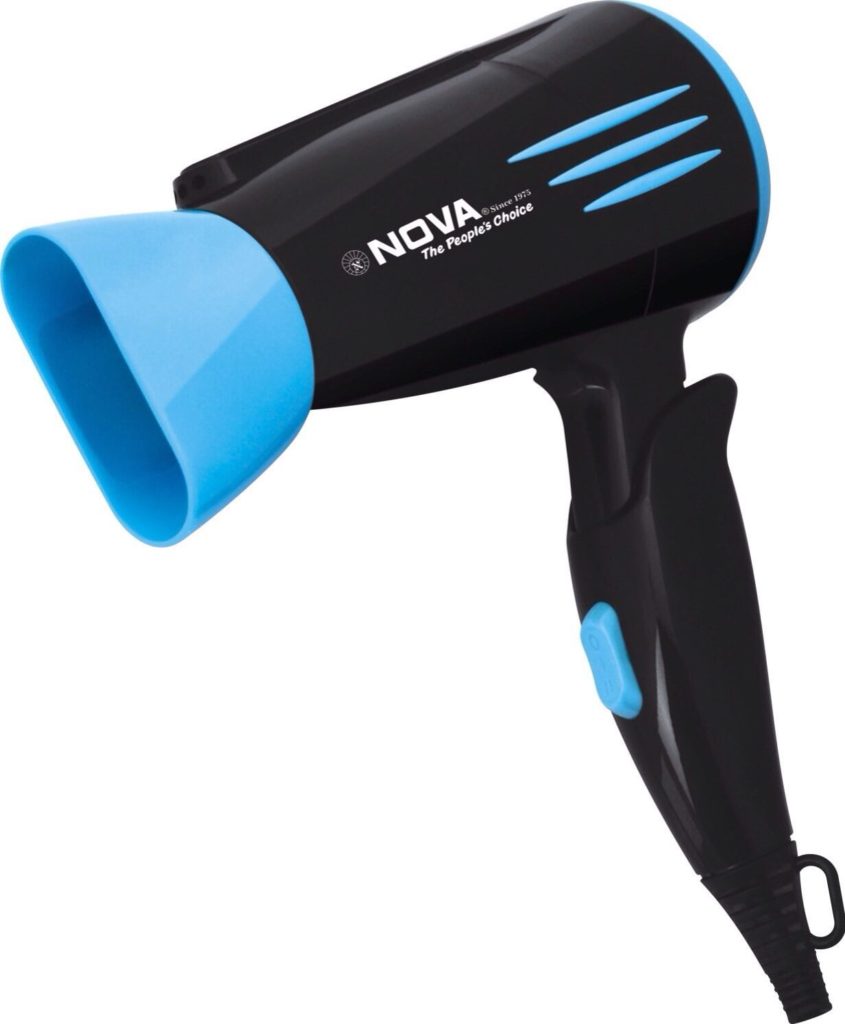 As you might know, Nova is a reputed and established brand in the Indian online market. Their products are available at all the popular online stores. This hair dryer from Nova has 1800W power which not only dries your hair efficiently but also gets the job done in lesser time.
IONIC CONDITIONING TECHNOLOGY
With this unique and useful technology, your hair will remain smooth and Silky all the time. This also Speeds Up Drying Time without damaging your hair.
With a slightly bigger Cord Length Of 1.8m, this hairdryer is portable as it has a nice ergonomically designed Foldable Handle. It is also easy to use due to its Compact Design.
1800W HIGH POWER OUTPUT
This hair dryer from Nova has more power as compared to others. With a higher Wattage Rating Of 1800W, it will be Hotter and Faster to set your hair in no time.
It comes with a concentrator attachment in the box. This hairdryer also uses EHD+ Technology which distributes the heat evenly over your hair and thereby protecting the same.
4. Remington Hair Dryer – Compact and Portable
The 4th hairdryer that we have in the list for our Top 5 best hair dryer for women in India is Remington D5000 Hair Dryer. In spite of being small in all dimensions, this hair dryer packs a lot of power inside.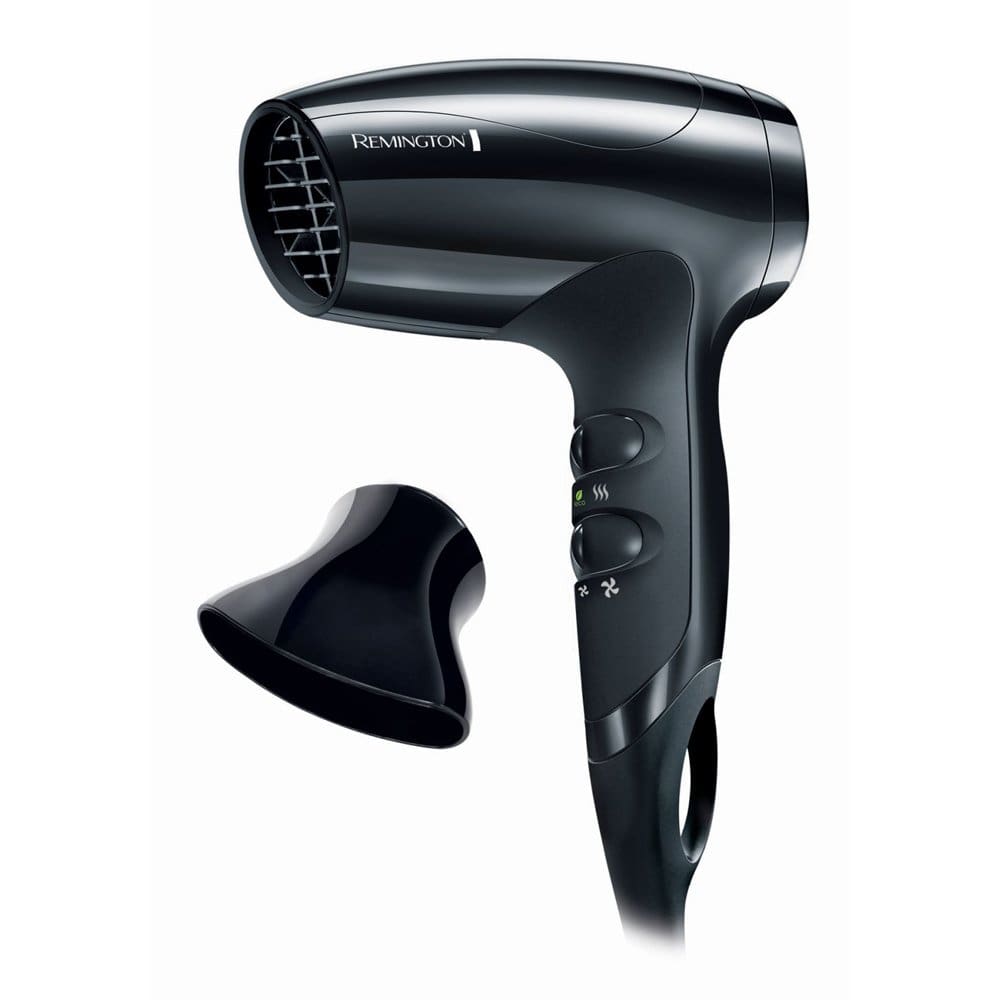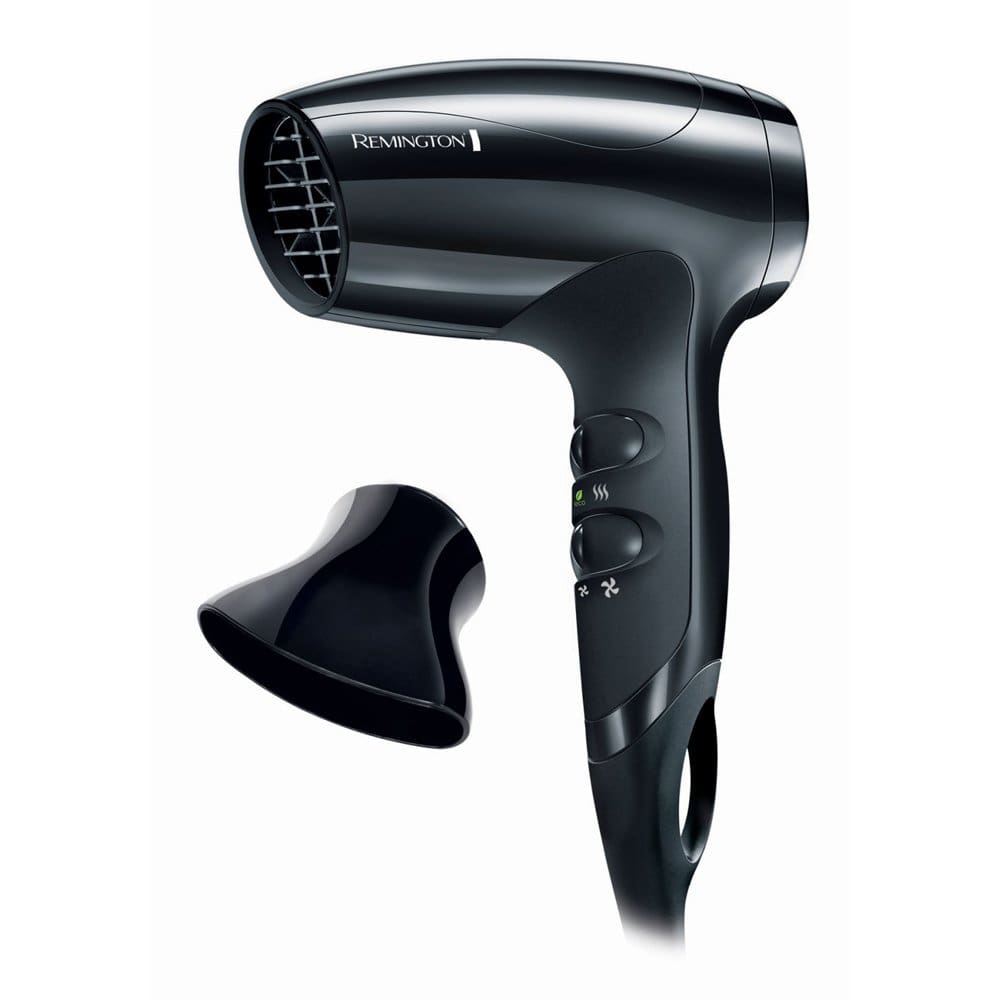 With a high-performance motor of 1875W Power, Remington D5000 Hair Dryer never fails to beautify and stylize your hair in the way you want. It is also lightweight due to its compact nature and small size.
EXTREMELY COMPACT AND SMALL SIZE
Due to its Smaller Size, this hairdryer is one of the best when it comes to portability. It can easily fit into your travel purse.
This hair dryer has a Removable Rear Grille for ease of cleaning and maintenance, which maximizes the efficiency. It also comes with an Energy-Saving Eco Setting which allows you to run the hairdryer at cold air and low speed, thereby conserving energy.
3 HEAT SETTINGS / 2 SPEED SETTINGS
Very few hairdryers give you so many options in terms of heat and speed settings. This one has 3 Heat and 2 Speed Settings, which enable you to dry and stylize your hair as per your convenience by altering between different heat and speed settings.
There is a Hang-Up Loop on the lower portion of the handle, which allows you to store it easily at home or during travels. This hair dryer utilizes Ionic Conditioning Technology that adds extra shine to your hair.
5. Morphy Richards Hair Dryer -Modern Look
The 5th hairdryer that we have in the list for our Top 5 best hair dryer for women in India is Morphy Richards HD-031 Hair Dryer.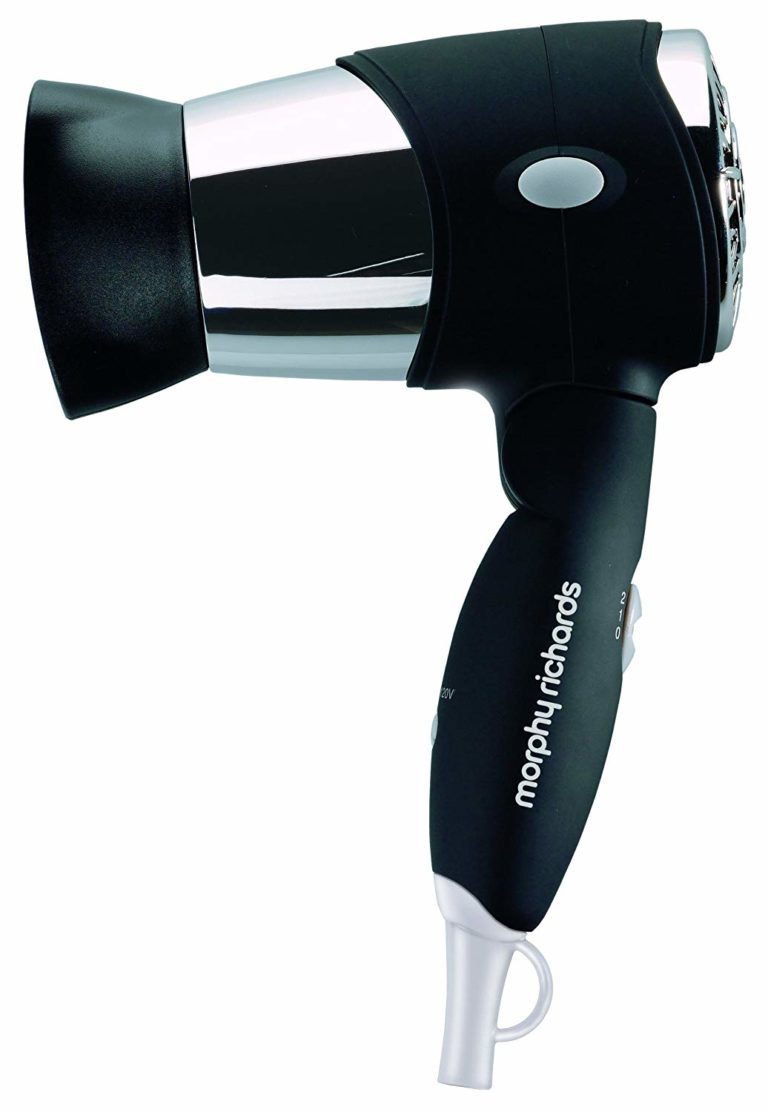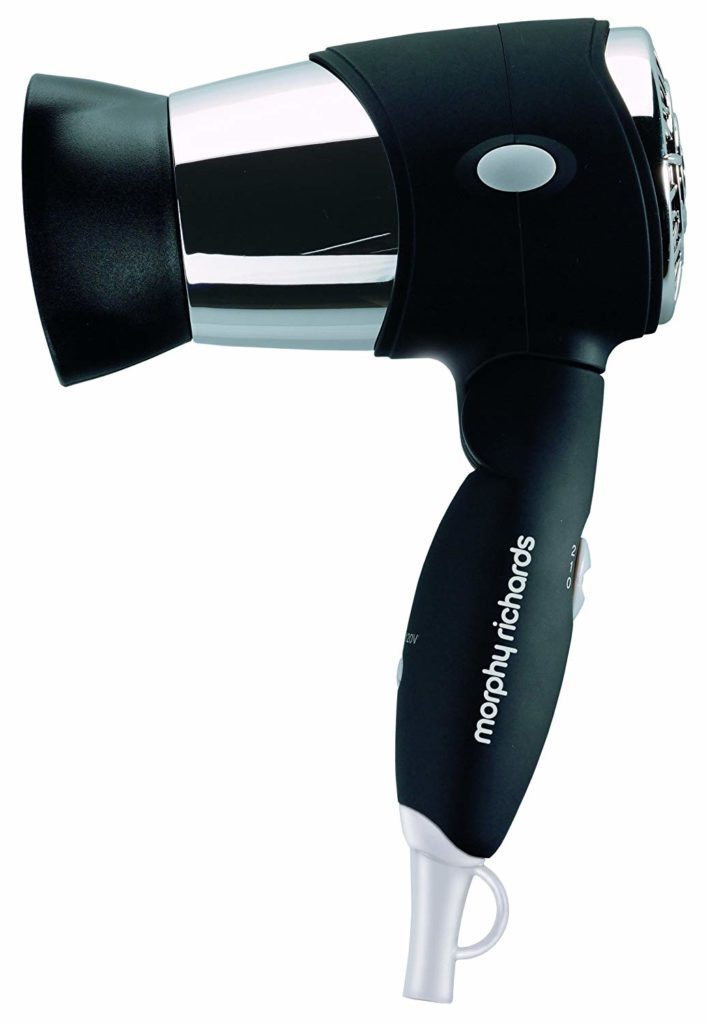 This hair dryer comes with a 1200W power that provides you with a Better Ergonomic Design and Comfortable Grip. You will not experience any fatigue by holding it in your hand for longer periods.
SAFETY OVERHEAT CUT-OUT
This feature ensures that if the hairdryer runs continuously for a long time, it automatically shuts itself off. This Avoids Overheating thereby prolonging the life of the device.
There is also a Dual Voltage setting which allows you to use this hairdryer in countries with different input voltages. This makes it more versatile to use.
ANTI-SKID CUSHION
There is an Anti-Skid Cushion on the handle for a firm grip. This ensures that the device does not slip and fits comfortably in your hand.
In addition to these intrinsic features, the look of this hairdryer is also unique. It has a Classy Black and Polished Stainless-Steel Finish offering a modern look.
CONCLUSION
Thus, besides defining your appearance, your hair also boosts your confidence, makes you more capable, more approachable and makes you feel smarter.
Moreover, from a biological point of view, your hair plays an important role as they serve a source of heat insulation, cooling and protect your skull from UV rays. Taking good care of your hair is essential for both purposes.
Keeping your hair well-dressed and groomed is a good sign of your personality. In the old days, it was not easy to dress your hair using tools available at that time. However, with advances in technology, today you can stylize your hair the way you want using hairdryers. With so many varieties in the market, those listed above will help you to choose the best and save your time.
So, grab your favorite hairdryer from the list and start grooming and stylizing your hair now!
Our Recommendations for Best Hair Dryers for Women in India
If you have any queries and suggestions regarding "Best Hair Dryers for Women in India" Please feel free to comment below and let us know.
You May Also Like –
Summary
Reviewer
Review Date
Reviewed Item
Author Rating