Who doesn't know the versatility and multitasking quality of a Mixture Grinder?
Yet, this is an appliance that always connects us to an irritable sound almost every morning in all Indian households.
Nevertheless, mind you all, this the same sound that helps us making delicious food. Let it be Dosa or Idli batter, varieties of chutney made of mint, coconut, coriander, peanut, etc. or the daily needed onion-garlic paste to make our curries tastier.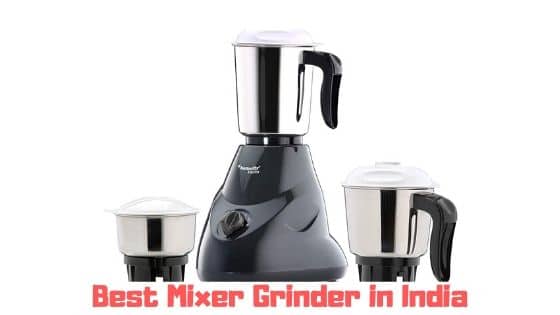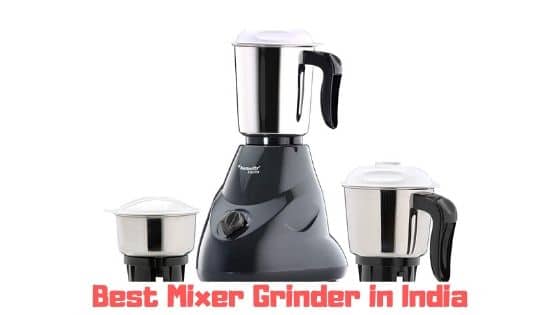 We also get tempting and healthy milkshakes with the help of a mixer grinder.
If you are an experienced homemaker or someone just setting up your house, in dire need of a mixer grinder… Worry not!
Here, we are listing down some of the Best Mixer Grinder in India.
You can buy them from your home or during the busy office schedule, from a trustworthy e-commerce site like Amazon.in.
We have prepared a Buying Guide for best mixer grinder in India as well, to provide you the expertise of technicality associated with Mixer Grinders.
This guide will help you with deciding your purchase from the list of Best Mixer Grinder in India.
Now, let us go through the list of best mixer grinder in India.
Quick Summary Our Top 5 Picks:
List of Best Mixer Grinder in India-
1.Sujata SuperMix SM Mixer Grinder- Powerful Motor
The first product in the list of best mixer grinder in India is Sujata SuperMix.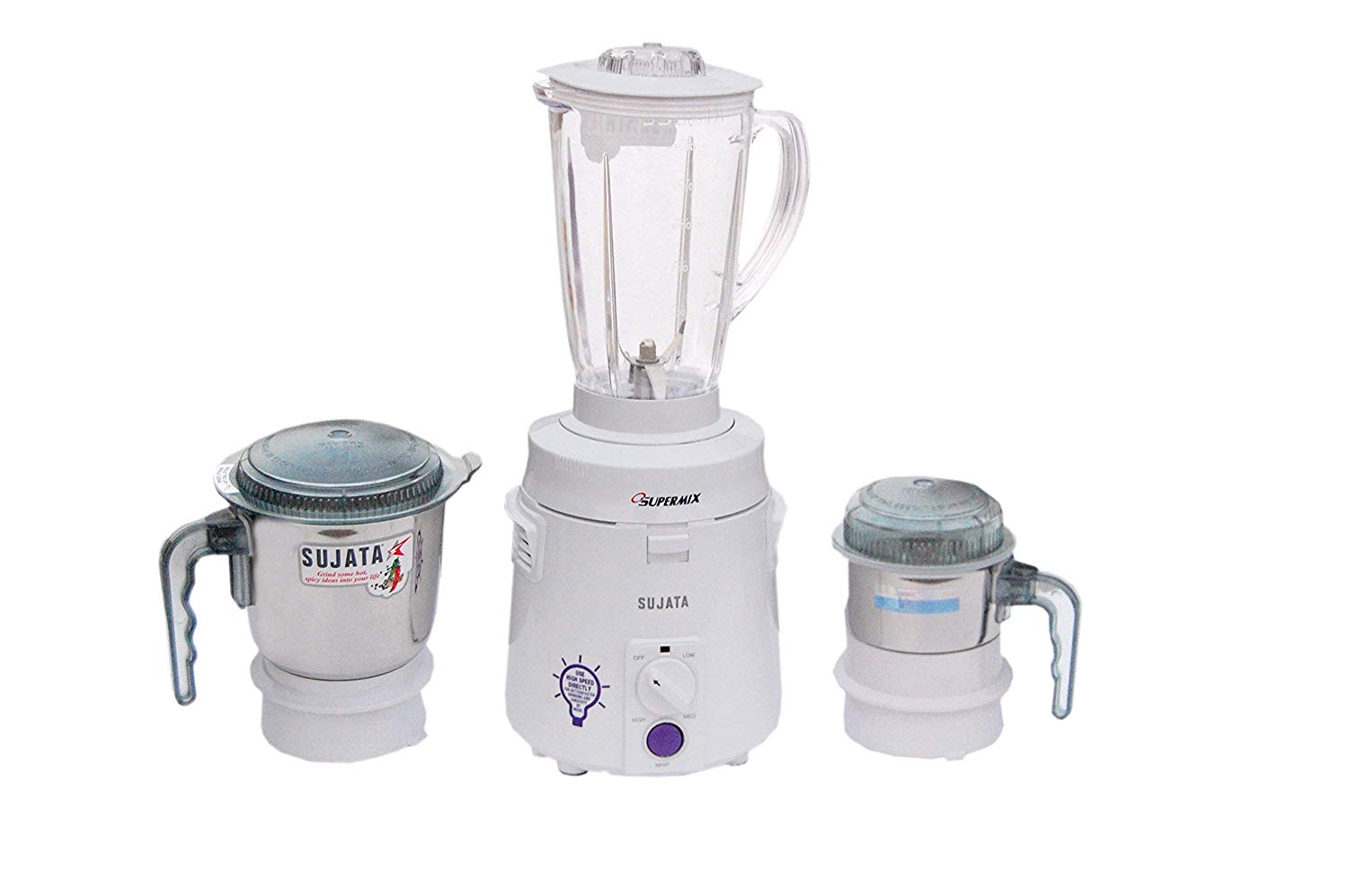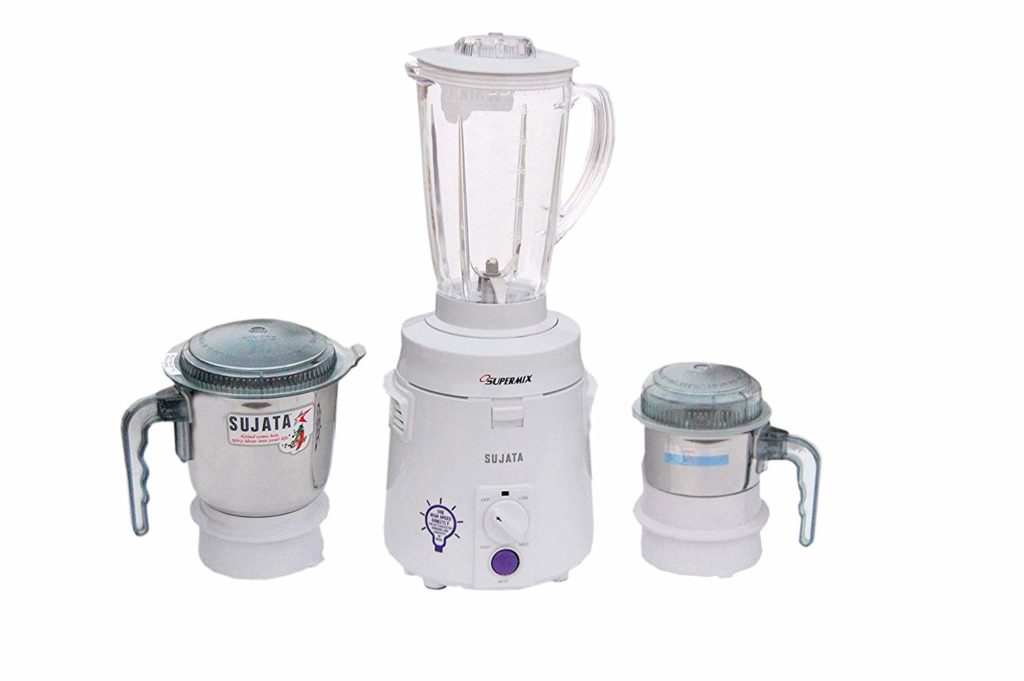 The capability to grind tougher ingredients and speed level of a mixer grinder depends on the wattage of the motor. With a 900-watt motor and double ball bearing installation, Sujata Mixer Grinder is the most powerful on in this list. This is also low on maintenance providing you with efficient runs for years.
Key Features:
Dosa or idli batter can be easily prepared with the help of the middle-sized stainless steel jar that has a blade for wet grinding.
The small-sized stainless steel jar can be used for dry grinding to prepare turmeric, masala, etc.
The big transparent blender jar is unbreakable and can be used to make milkshakes, smoothies, etc.
It consists of a Rotary action switch that can control the speed of the grinder at 3 levels with the peak reaching to 22000 RPM.
A unique addition to this grinder is the Whipper button that creates momentary motion that can be used to make whipping cream or lassi in the absence of a beater.
The high stainless steel blades provided with this mixer grinder renders to a faster and excellent cutting and grinding process.
The device is made up of a shock-proof and safe body that provides vibration-free operation. It can work perfectly in the domestic voltage range of 230 to 240 volts and AC 50 to 60 Hz.
Another fantastic feature is the continuous running capability of 90 minutes, which adheres to the need for longer usage.
2.Borosil ARO Mixer Grinder- Low Noise Level
The best part of this mixer grinder is its powerful motor. With a motor at a power of 750watts and a rotating speed of 20000 rpm, this mixer grinder stands out for its versatility of grinding different ingredients starting from dosa/idli batter to spices and onion-garlic paste.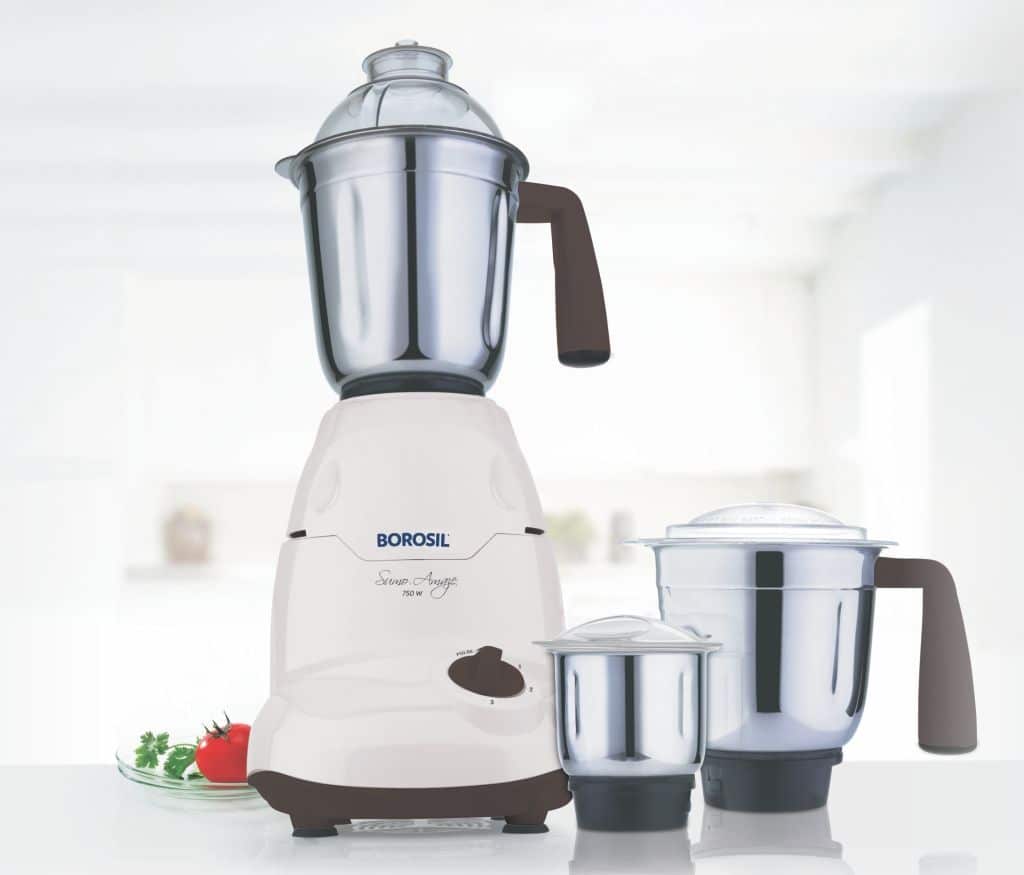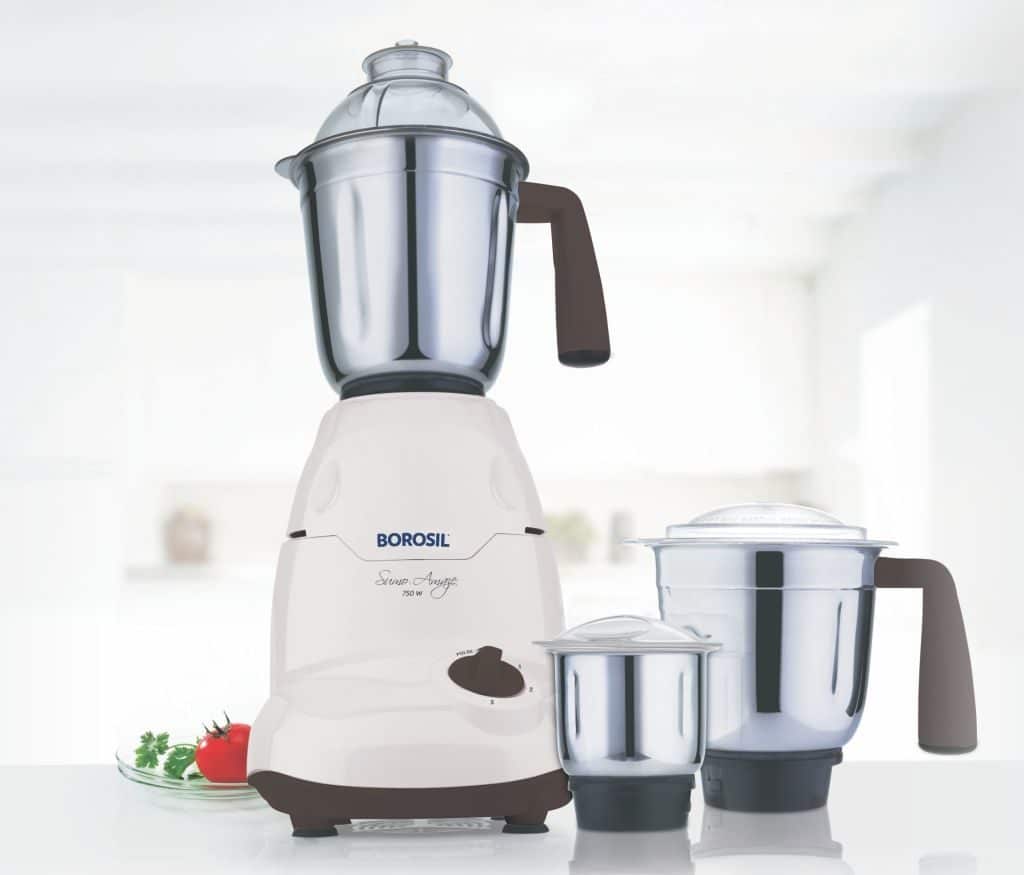 The in-built overload protector is a plus point of this grinder, as it keeps the device safe during power fluctuations.
Key Features:
This grinder comes with 3 Stainless Steel Jar, that can do blending, wet and dry grinding.
The 1.5-liter jar comes with a polycarbonate dome-shaped lid, can be used for blending to make delicious smoothies and shakes. The polycarbonate material used in the lid makes it transparent which helps us see the status of the grinding ingredients throughout the process without the need of opening the lid every time.
All the 3 jars come with flow breakers to avoid any mesh created by overloading of ingredients.
The grinder body is made up of ABS plastic and jars consist of ABS plastic handles, that provides a strong grip and don't get affected by the heat generated during the grinding process.
The mixer grinder consists of a durable rotary switch that controls the rotating speed at 3 levels.
It has a long power cord of 1.5meter length and a 3 pin plug, for the safety and convenience of the customers, so that customers don't have to always search for a nearby plug point.
The jar lids have rings inside that prevents leakage while grinding. And also as the jars can be closed tightly, we can store the leftover ground materials after use also.
The mixer grinder comes with a spatula too, that comes handy while wiping off the residue from the jars.
This mixer grinder attracts customers with a warranty of 2 years on the entire product and 5 years on the motor. So you can use it. without worrying about spoiling its efficiency with overuse, because you have got covered for that by the brand itself.
3.Philips HL7756/00 Mixer Grinder- Air Ventilation Feature
Number 3rd in the list of best mixer grinder in India is Philips HL7756/00. We mostly judge an appliance by the brand name and as we all know; Philips is an acclaimed brand in the electrical appliance industry. Alongside being an adorable mixer grinder, Philips HL7756 provides an exquisite performance as well to its buyer.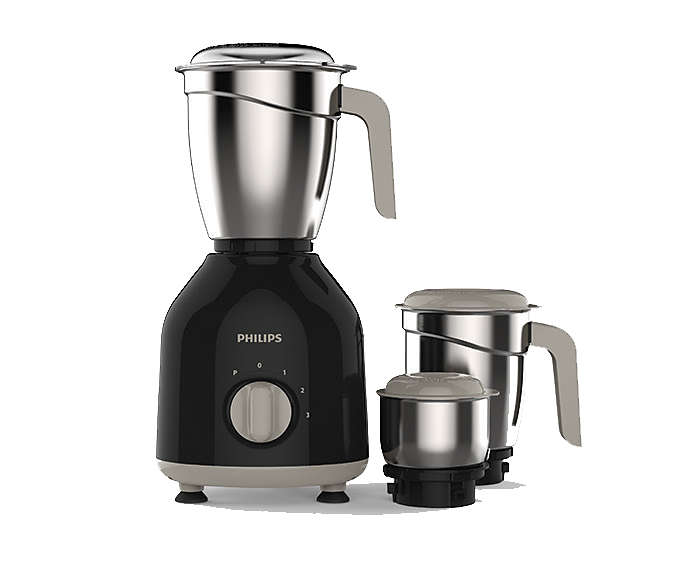 This Mixture Grinder consisting of a powerful motor of 750-Watt delivers an efficient result in grinding. The appliance boasts a unique feature of the advanced air-ventilation system, that cools the motor quickly.
Key Features:
Philips HL7756 is made up of a powerful turbo motor that supports the device for continuous grinding of 25 minutes and can grind tough ingredients like grams, pepper, etc. with ease.
The coupler is made of sturdy plastic material that firmly holds the jars and the body of the grinder together without making you worry about any kind of a mess.
All the 3 jars are made up of food-grade high-quality stainless steel that enables the grinding of different ingredients in the same jar.
The dome-shaped transparent lid allows you to check the consistency of the grinding ingredients according to your requirement.
This appliance consists of specially designed blades that help to slash the hardest ingredients easily and provides you with the finest paste, smoothest shakes and creamiest purees for your various recipes.
Uniquely designed rubber gaskets for the jar lids assures a tight fit and provides a secure locking technique that prevents spilling of ingredients while grinding.
This is easy to clean, as it has a triangular-shaped solid body with fewer grooves.
4. Bajaj Rex Mixer Grinder- Pocket-Friendly
Here comes another household trustworthy brand in an Indian family. Bajaj is such a brand that provides user quality at a very affordable price.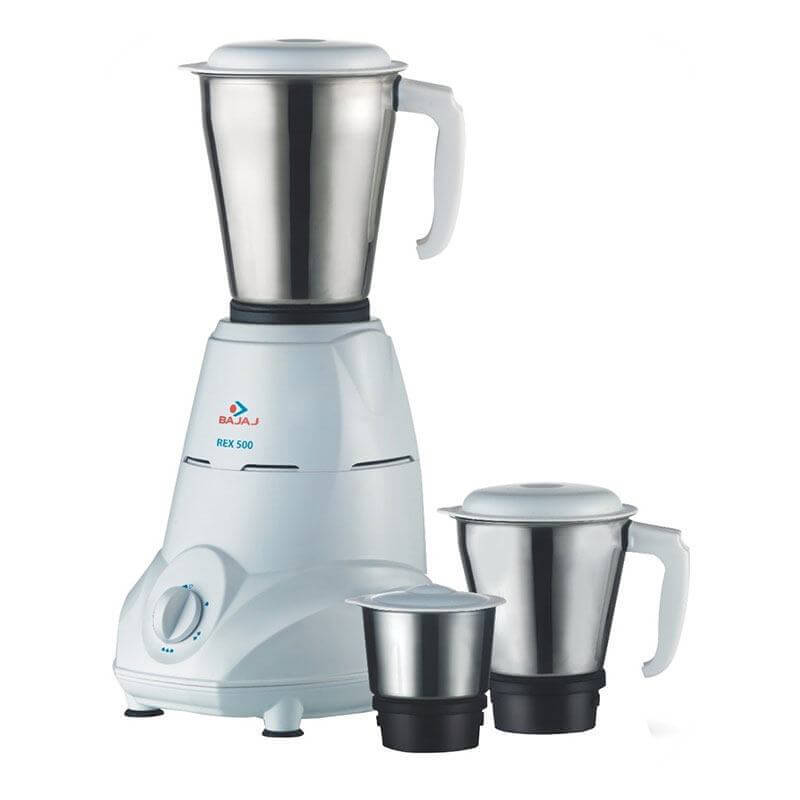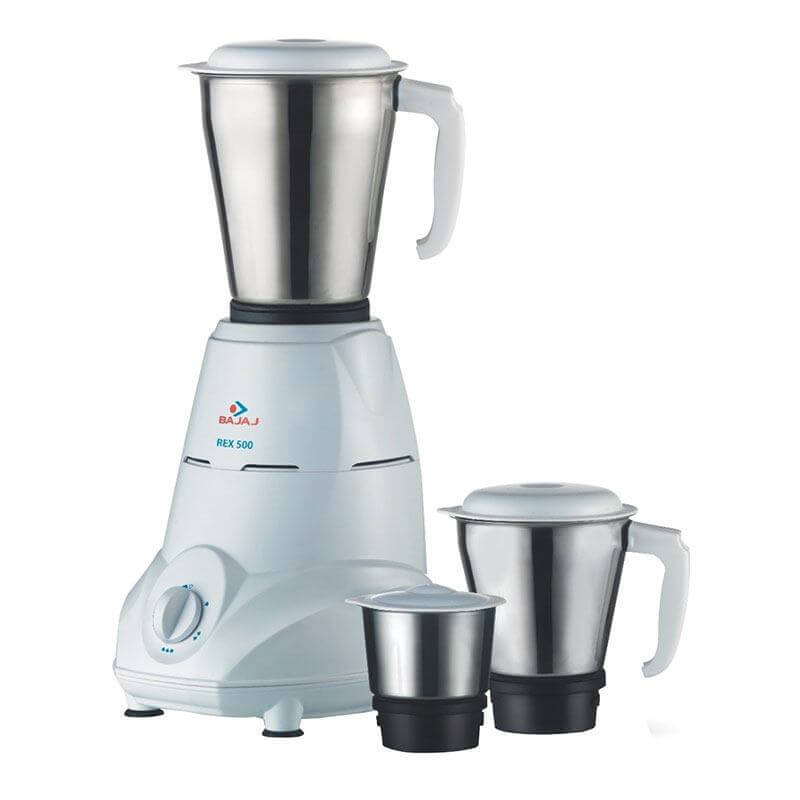 Bajaj Rex Mixer Grinder is a durable device with 3 stainless steel jars that prevents rust over the time period. With a 500-Watt motor, this device carries out a variety of tasks with perfection.
Key Features:
The appliance comes with vacuum feet which helps the device to stay put during the vibration caused while grinding.
Bajaj Rex is a beauty to the eyes, with its slim compact body having a shiny finish. It also has a very strong built as it is made up of heat resistant ABS plastic.
It consists of a liquidizing jar for shakes and smoothies, a dry grinding jar for spices and a chutney jar for different chutneys and purees.
The jar lids do have a very tight grip, that holds the jar effectively and avoids spilling of ingredients.
The 500-watt motor has an in-built overload protector that acts as a safety wall for the device.
You can control the rotating speed of the motor with the rotatory switch according to your need without hampering the device. The grinder can also perform momentary action that contributes to smooth blending.
An eye-catching addition to this device is the LED indicator, which stays on if the device is plugged-in.
5. Usha MG-2853 Smash Mixer Grinder- Trusted Brand
The next one on the list of best mixer grinder in India is Usha MF-2853. Usha synonyms with one of the oldest known brands of electrical appliances. There are varieties of appliances under this brand such as fans, sewing machines, mixer grinders, etc.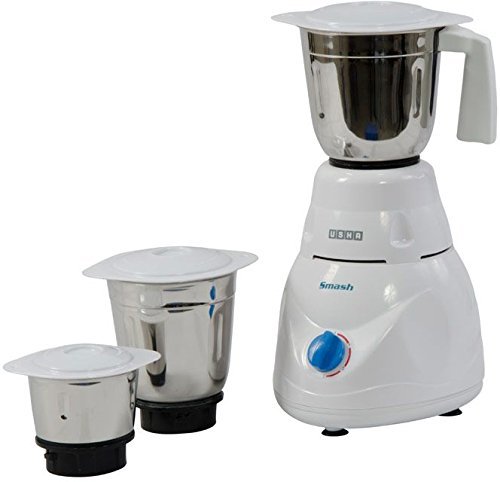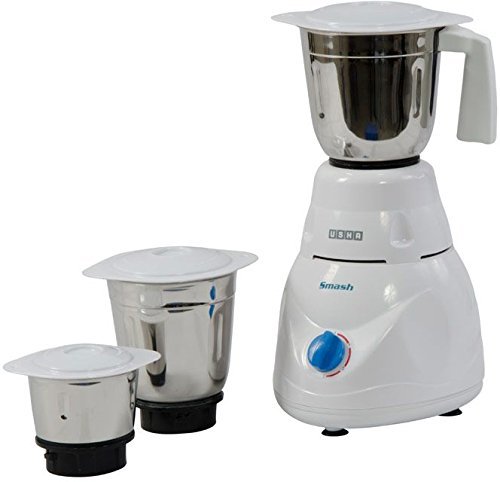 This appliance comes with a very powerful motor that helps in easy grinding which in turn provides us with high-quality products. The specially designed blades have the capacity to cut through tough ingredients and produce smooth, creamy, finely blended end products such as juices, chutneys, pastes, and purees.
Key Features:
The appliance comes with 3 stainless steel jar which provides quality and also stays rust-free for a long period of time. All the 3 jars do have inbuilt flow breakers in order to prevent overflow of ingredients during the grinding process.
The jars consist of ABS plastic handles that promote an easy grip, smooth detachment from the grinder body as well as easy cleaning.
The overload protector characteristic of this motor keeps the appliance safe and secure during a sudden increase in power in our homes.
The mixer grinder works perfectly under the domestic current supply of 230 volts with a 50 Hz frequency.
The cylindrical shape of the grinder body gives it a strong look and feel.
The compact tower design gives it a unique and attractive look, which attracts a buyer.
Usha Smash mixer grinder has a unique feature of spillover liquid escape, which adds to the motor safety and gives it a long life.
The device comes with a 3-level speed control mechanism that can increase and decrease the speed of the motor and help you with achieving the correct granularity or consistency of the ingredients.
You can produce a smooth paste, fine spices, powdered coffee, or even granule gram with the help of its superior uniquely designed fine blades.
The incher switch or the whipper switch helps in performing whip operation that doubles up as a beater to make whip cream and this small switch can effectively produce delicious lassi.
6.Butterfly Hero Mixer Grinder- Attractive Design
Butterfly brand has gained name and credibility, over the years by producing unique and long-lasting appliances. You can relate this brand mostly with pressure cookers, gas stoves, induction stoves, grinders, etc.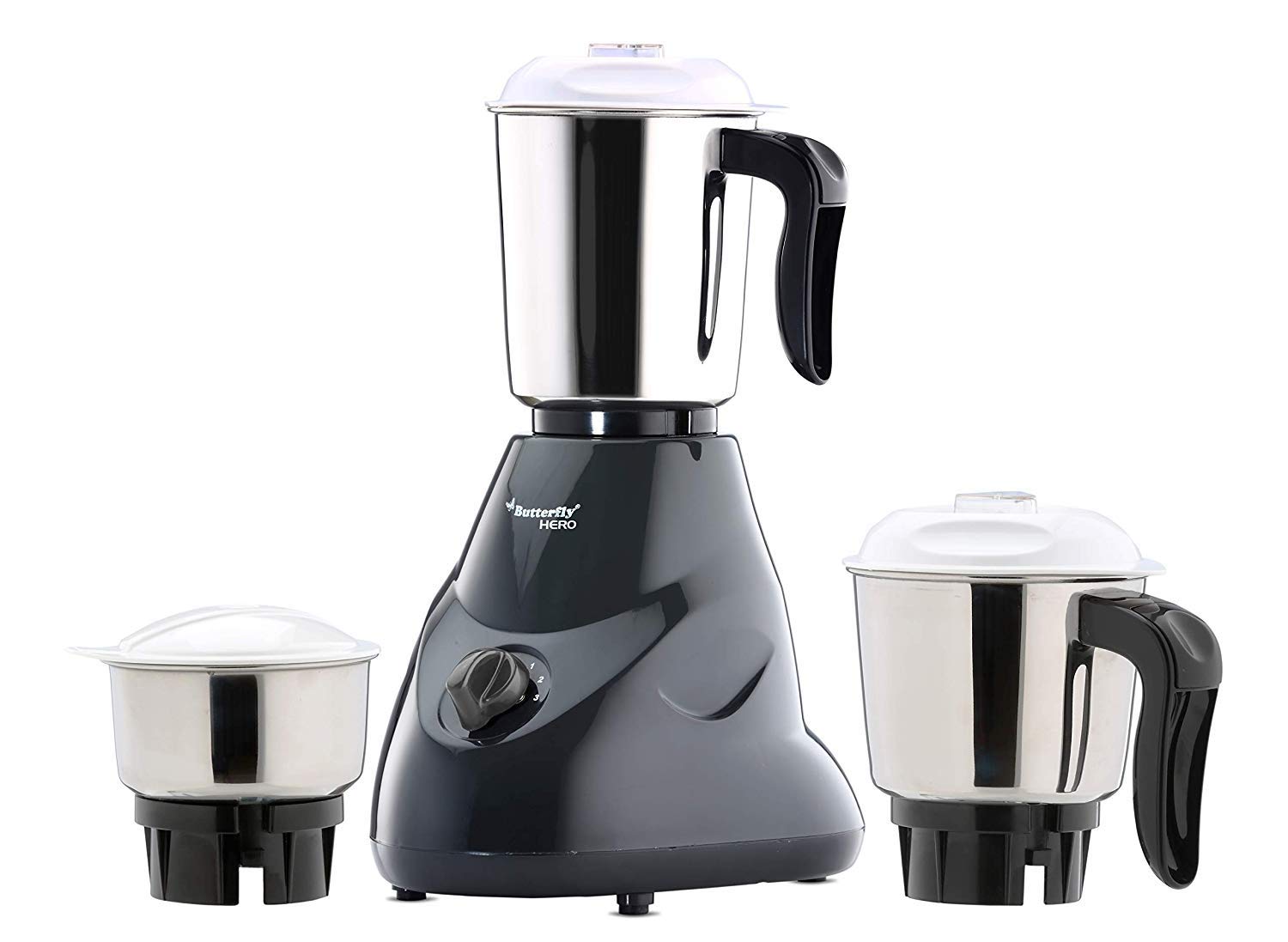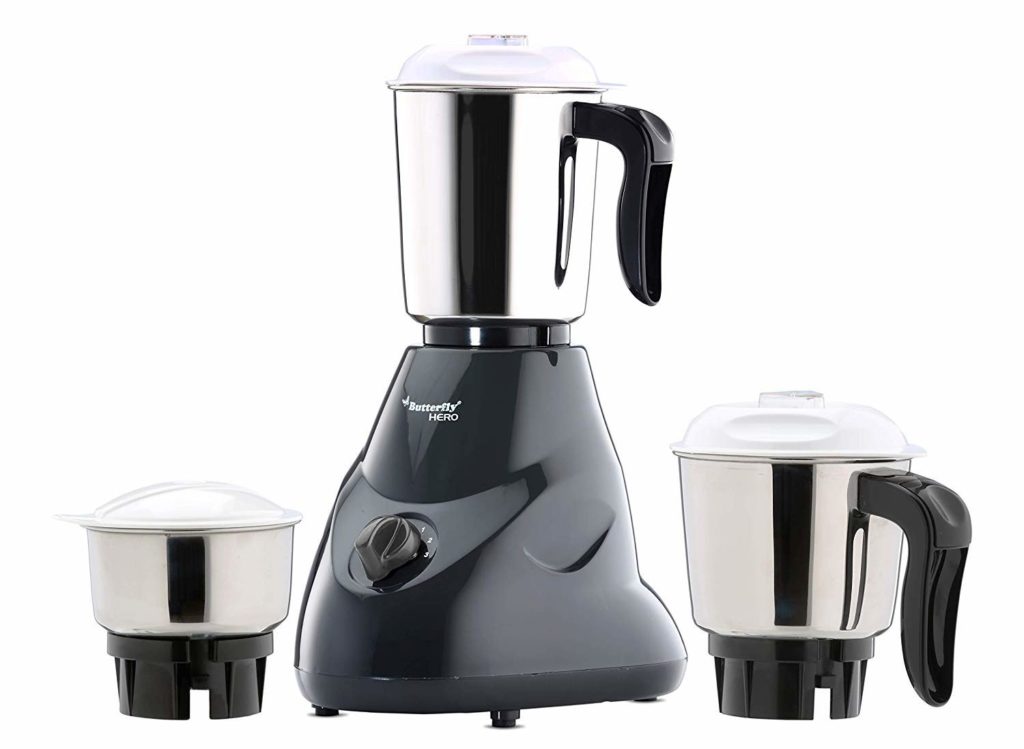 With an appealing design and a magnificent motor, Butterfly Hero 500 – Watt Mixer Grinder provides powerful performance, in turn, inducing effective and fine grinding.
Key Features:
The super curvy design, with a modern touch in the appliance, makes a special place in the beholder's eyes with the first look on it.
It has got special rubber shoes for an extra firm grip and avoid any incident that can happen due to the vibrations produced.
It comes with 3 high-quality stainless steel jars that provide durability, reliability and also improved endurance.
These jars come with transparent lids that can help us to see the grinding level, without the need to stop the run and check.
You can use this mixer grinder in your kitchen daily to make chutneys, powdered spices, smooth gravies, jams, etc.
As the jars consist of strong and sturdy handles with trenches in it, it is super easy to hold them because of the grip, minimizing the slippage incidents.
Since the device's target audience is domestic households, it runs smoothly on 230 volts current– 50Hz frequency, making it an energy-efficient device.
The razor-sharp blades have an RPM of 17000 – 20000, which precisely cuts, chops and mixes ingredients of any shapes or sizes.
The speed-regulating knob is a very trending feature, which gives you the authority to play with the speed, in order to meet your demand of level of grinding.
There exists a whip level too, in the rotatory switch that can give us coarsely ground products or produce superbly blended shakes and smoothies by increasing the speed to a lightning-fast pace.
7.Prestige Tez Mixer Grinder- Spacious jars
Prestige is a well-known brand in the kitchen appliance market, making people trust it blindly, let it be while buying a gas stove or a grinder or non-stick cookware.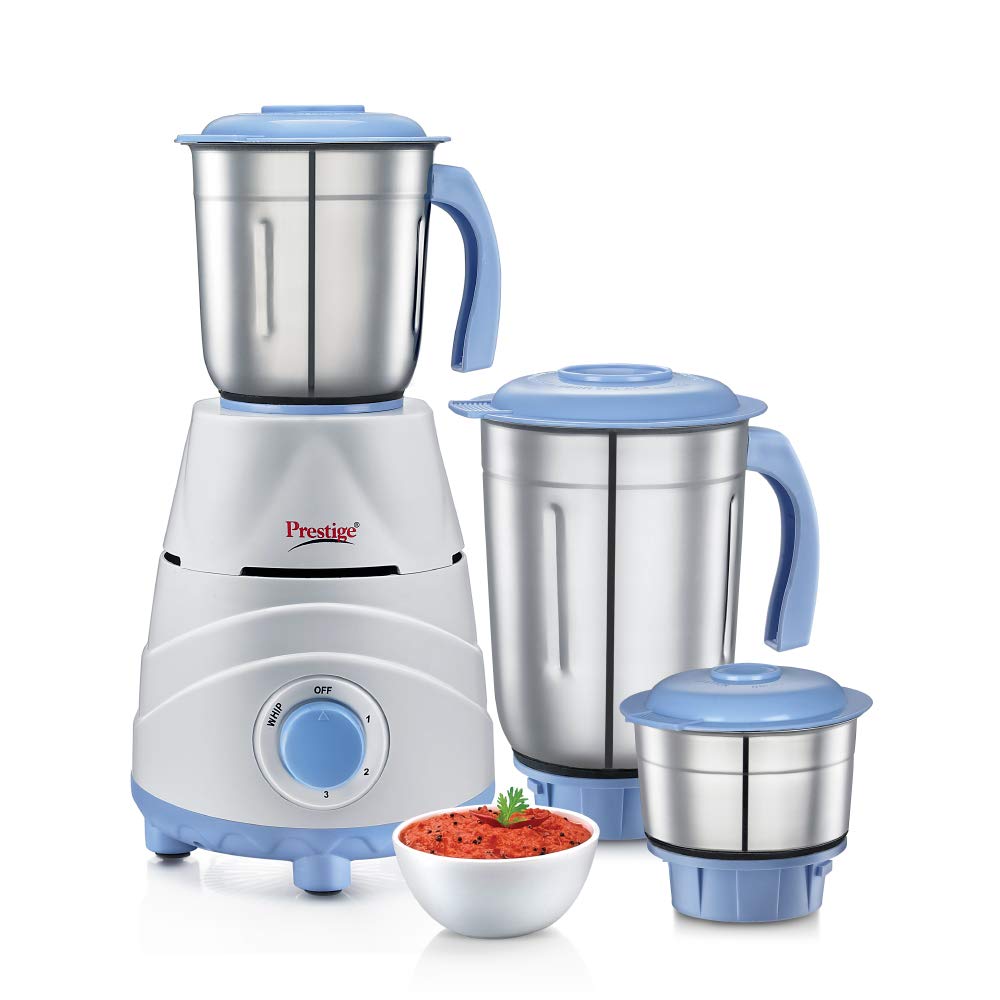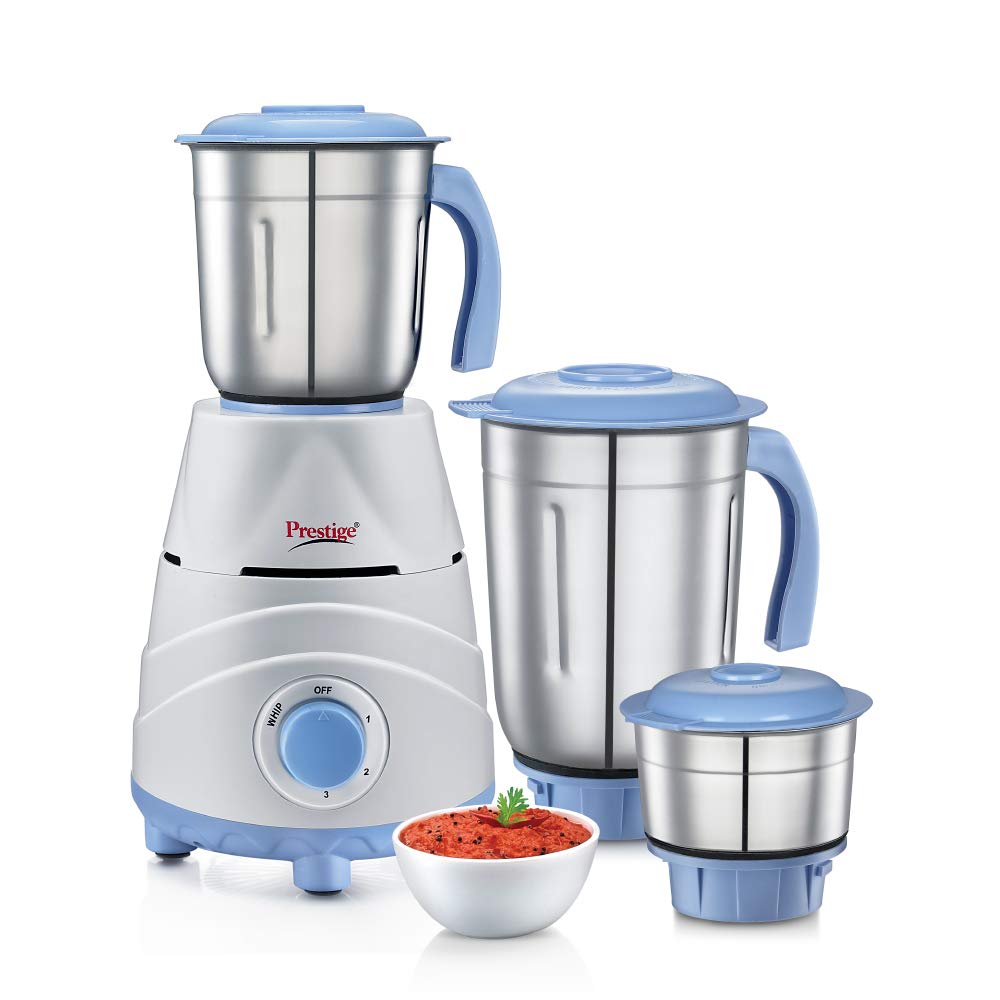 Prestige Tez (550 Watt) Mixer Grinder is one of the best products in this list, as it comes with a brand that believes in providing quality with each of its innovation. The mixer grinder is very thoughtfully designed keeping the motor speed at 550 watts that definitely catalyzes fine, coarse, wet, dry, and satisfactory grinding.
Key Features:
Tez comes with 3 stainless steel jars, with spacious and firm bodies that will give you the assurance of working perfectly for a very long time even with rigorous use.
It has got a mirror- shine finish that gives it a premium and a different look.
The 1.5 Ltr jar caters to your wet grinding needs, 1.2 Ltr jar comes in handy for dry grinding and the 400 ml jar is used while making chutney.
The blades associated in the jars does their job perfectly in grinding sugar, masala, rice, blending dal, lassi, etc.
It has a very convenient design that takes up a little space in your kitchen.
The handles hold an uncommon design that has grooves in it providing a strong grip while holding it from the grinder body.
It has a control knob, which gives you the freedom of getting the required consistency of the grinding ingredients. It also has the whip control, which can perform the momentary operation in order to get well-blended tomato, lassi or well-beaten egg.
The device comes with a spatula; that you can use instead of your fingers to mix the contents in the jar for uniform grinding, and to remove the contents from the jar, once the grinding process completes, without compromising with the safety and hygiene.
8.Orient MGKK50B3 Mixer Grinder- Easy Maintenance
The next name in the list of best mixer grinder in India is Orient MGKK50B3. Orient is a notable brand in the electrical appliance industry for appliances such as fans, air coolers, bulbs, switches, etc. Therefore, buyers can easily trust the mixer grinder from this brand in terms of quality.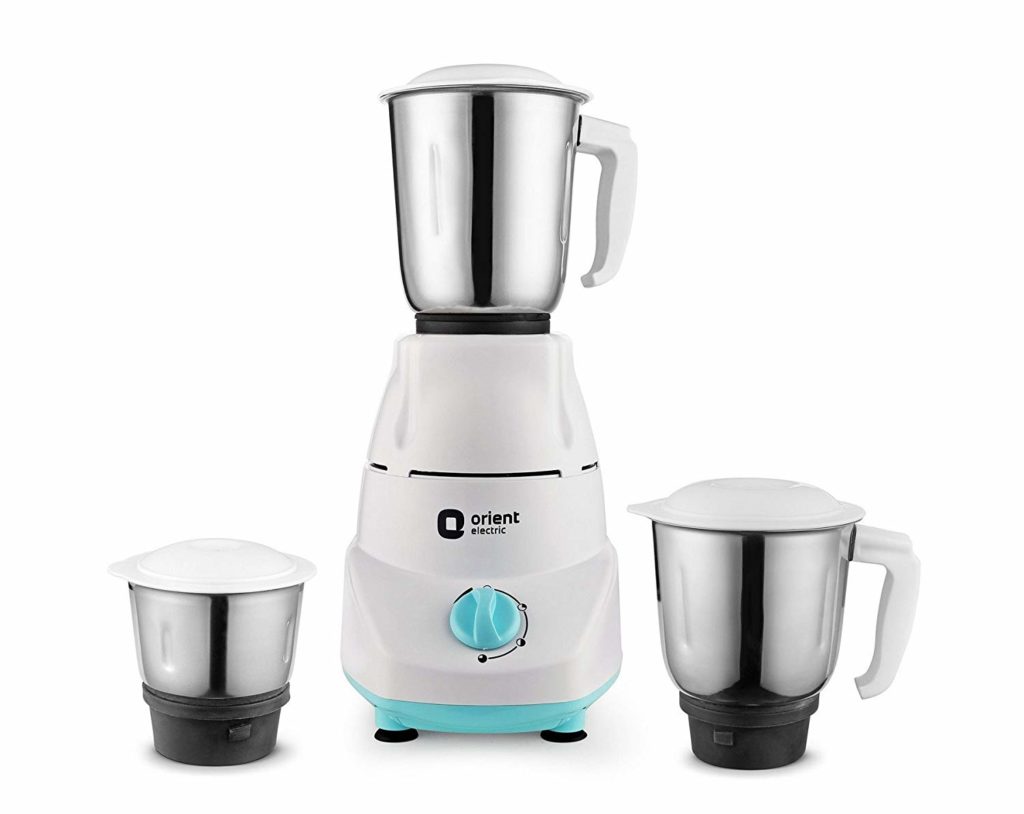 Orient Mixer Grinder has a 500-watt copper motor at its core for better grinding and producing fine products. The mixer grinder got extra thick jars that contribute to the purpose of heavy-duty grinding alongside a long-life.
Key Features:
The uniquely designed nickel blades in the jars speed off the grinding process and provide a super-fine grinding.
All the 3 jars come with the flow breaker mechanism that gives fast and impressive results.
The grinder has a 3-speed controller along with an incher that helps in getting the correct consistency according to your needs. It delivers momentary action to make lassi, beat egg respectively.
The suction shaped jar bottom protects the jar from falling off because of the motor vibration, as it enforces a very good grip on the grinder body.
There is an inbuilt overload protector that keeps the device secure in case of electric current fluctuations without damaging it.
You will be covered under the brand warranty for 2 years for both the product and the motor.
9.Morphy Richards Mixer Grinder- Awesome Gripping
Morphy Richards brand coming from a foreign land, England to be exact, has its own audience base in the Indian electrical appliance market.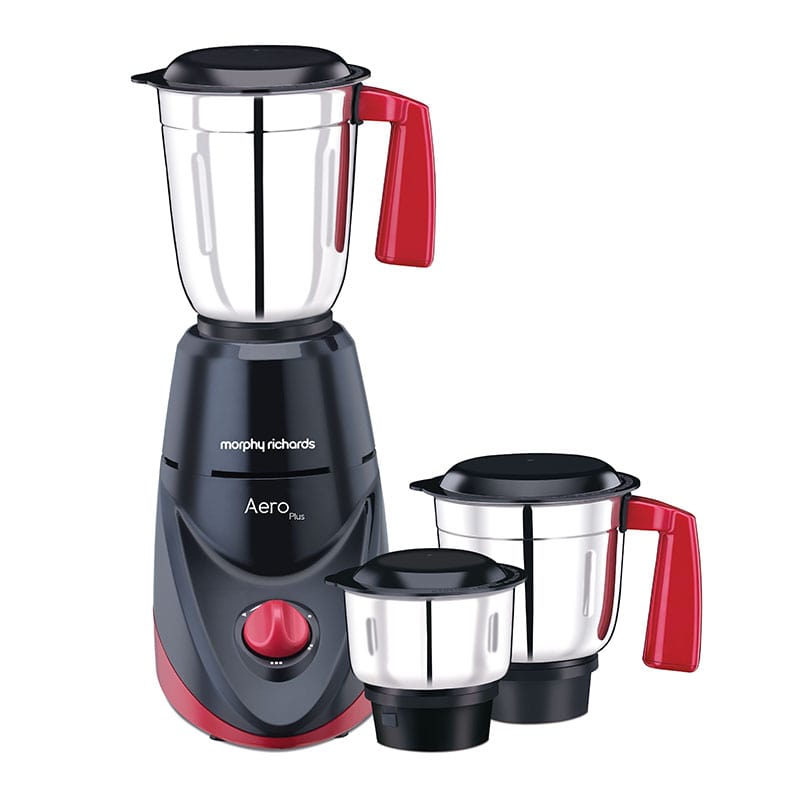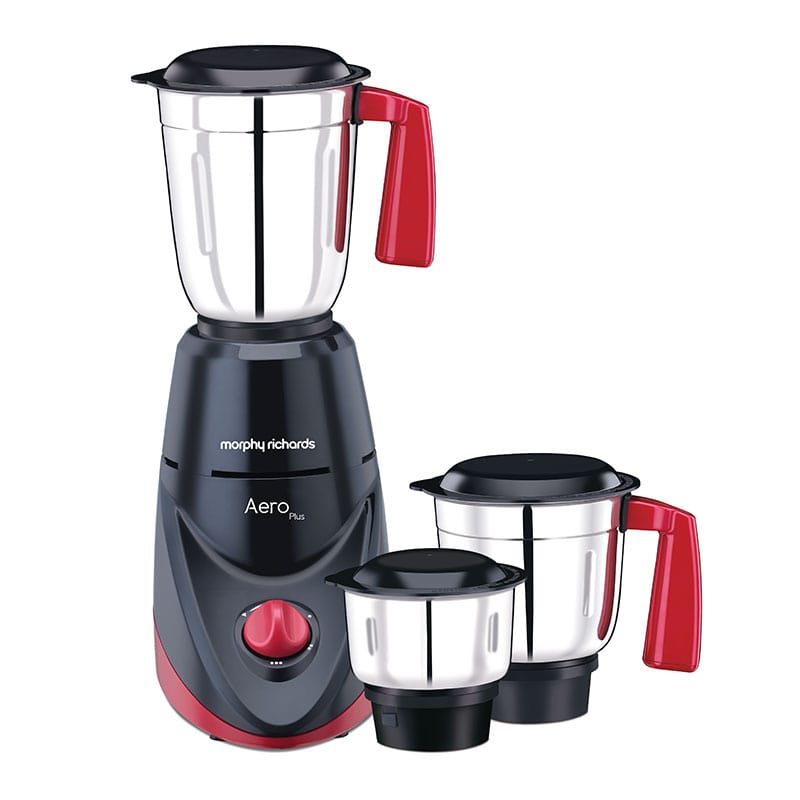 The brand specializes in toasters, hairdryers, coffee machines, but also has a good hold in iron, mixer grinders, washers, etc. With a powerful 500-watt motor, it helps you complete your daily chore at a much fast pace with the perfect result.
Key Features:
Morphy Richards Aero Plus is an attractive mixer grinder made up of black and wine color ABS plastic body. While jars are made of stainless steel material, with lid and handle in the same color combination. ABS plastic is best for shock and heat resistance.
The device has a futuristic stylish design, which adds grace and elegance to your kitchen counter.
You can run the device for a continuous 30-minute during heavy grinding and get a nicely blended product.
The mixer grinder effortlessly grinds all the ingredients, let it be wet or dry, and produce a smooth paste, perfectly blended smoothies, creamiest purees, and ideal consistency chutney.
The jars comprise of excellent quality stainless steel blades, which can mince, chop, cut, slash like a razor effectively.
The device is highly reliable and has a long lifespan as all the components are made of superior quality materials.
You will get the device with an inbuilt overload protector that increases the safety factor. The jars come with flow breakers for fast and efficient grinding.
The cord is 1.5 meters length giving you the option to be flexible with the grinder's placement. The high quality 2 pin plug adds to the safety of the appliance. There is also the cord-winding facility of the power cord, which helps in saving storage space.
This mixer grinder from Morphy Richards comes with a 2-year warranty on the product.
10.Lifelong Mixer Grinder- Inexpensive
Lifelong power pro is rather a new player in the market, but with its superior quality, versatile service, and affordable cost, it will surely be on the list of best mixer grinder in India.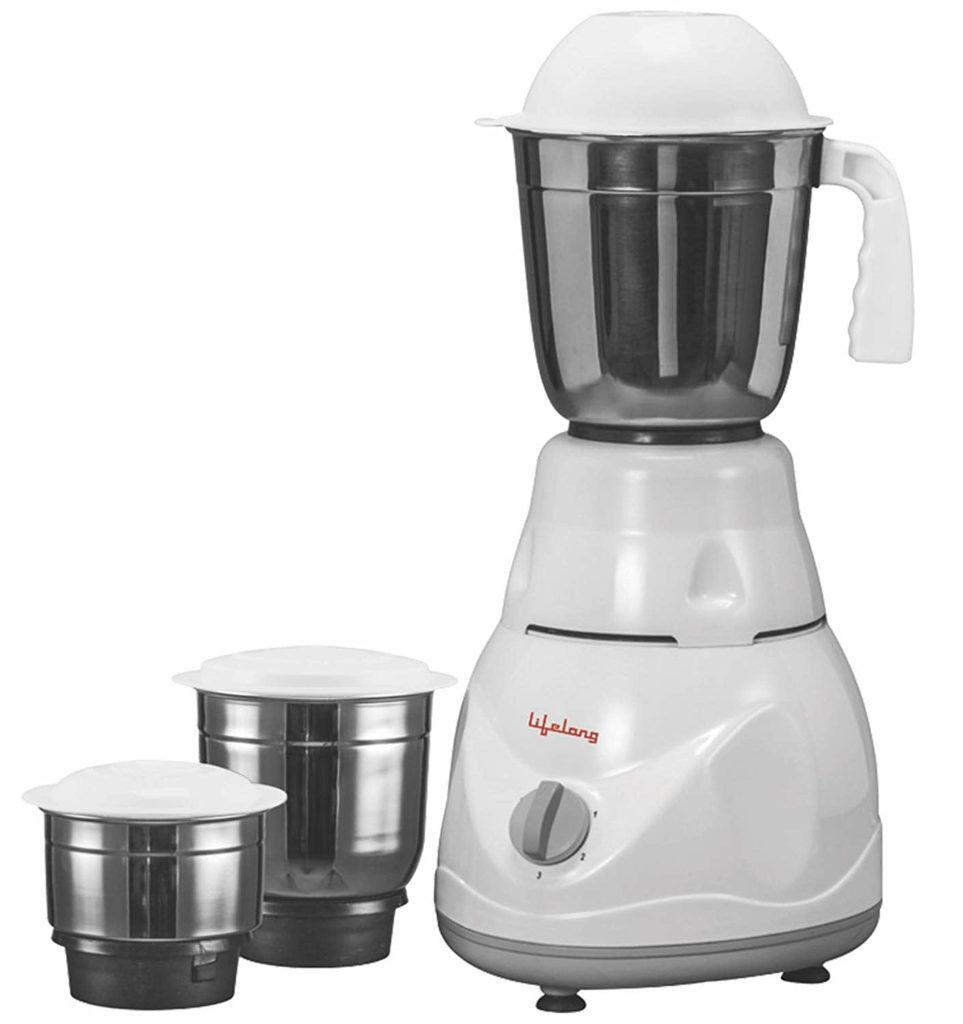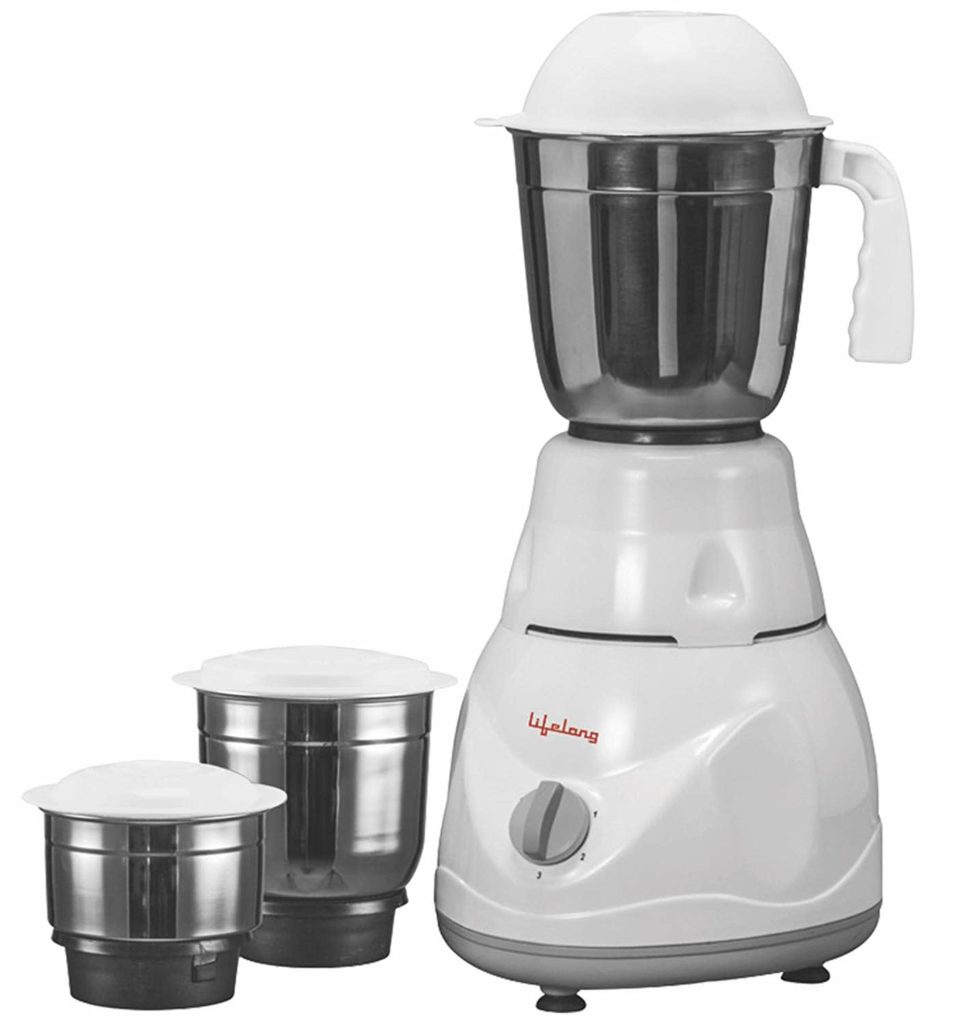 This is the cheapest one in this list yet providing the same level of efficiency in grinding. If you are someone who wants a spare mixer grinder at your home, you can definitely go for this, as it comes with a very low price and at the same time serves its purpose efficiently.
Key Features:
This grinder has a powerful 500-watt motor for fast and fine grinding and comes with motor overload protector technology.
Lifelong mixer grinder boasts of a unique feature of anti-skid feet that doesn't let the grinder to slip during high vibrations caused while grinding.
It consists of 3 stainless steel jars of size 1.25 l, 0.88 l and 0.3l capacity which will remain rust-free for a longer period.
The grinder is helpful for grinding and blending. It produces various products such as lassi, onion-garlic paste, turmeric powder, coconut flakes, etc.
There is a 3-speed operation that allows you to control the intensity of grinding and give you fine-grained.
This device comes with a 1-year warranty on the product and 3 years on motor, which keeps you off worry.
As this device is specifically planned for domestic use, it can operate correctly in 220 volts current and 50Hz frequency.
It has got a very compact body made of ABS plastic, which makes it heat and shock-resistant, and don't take up much space while storing.
Buying Guide to Buy Best Mixer Grinder in India
In this section, we will provide you with in-depth knowledge of the mixer grinder and guide you through the various technicalities that are used in its powerful and smooth functioning. This will make it easier for you to choose the best mixer grinder in India, according to your needs.
What aspects of a mixer grinder to be considered while searching for the best mixer grinder in India.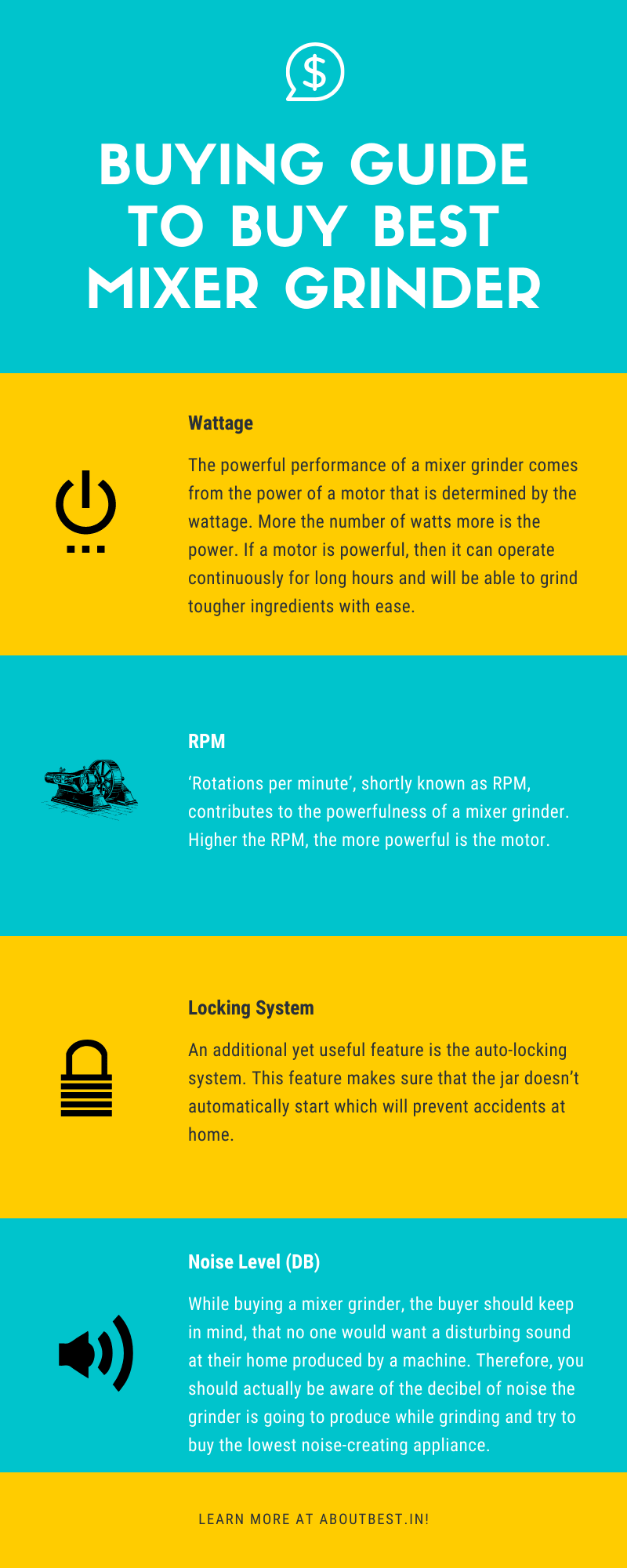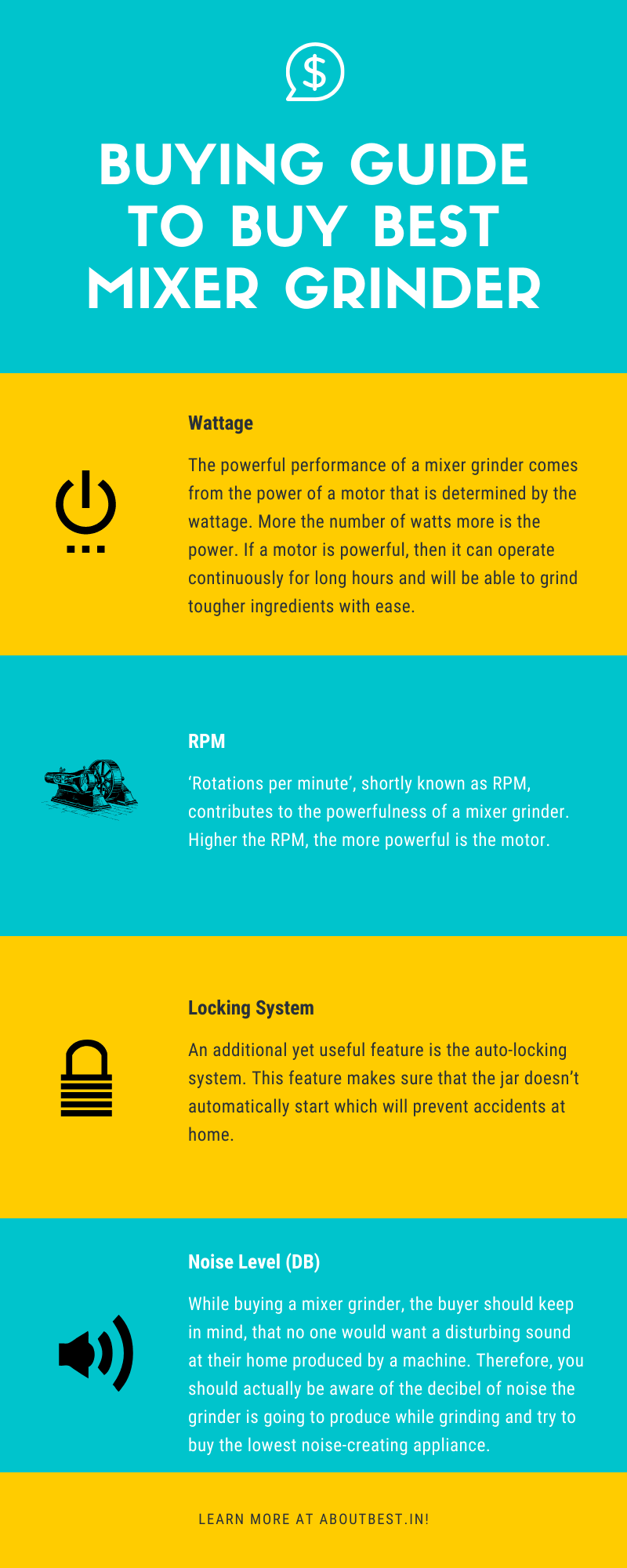 Wattage
The powerful performance of a mixer grinder comes from the power of a motor that is determined by the wattage. More the number of watts more is the power. If a motor is powerful, then it can operate continuously for long hours and will be able to grind tougher ingredients with ease.
For a household kitchen, a grinder with 500-watt power will do the job satisfyingly, but if you need to grind the large volume of tougher ingredients such as grams or turmeric, then a grinder with power more than 750-watt is needed.
RPM
'Rotations per minute', shortly known as RPM, contributes to the powerfulness of a mixer grinder. Higher the RPM, the more powerful is the motor. With a higher RPM, the grinding of components completes fast, as the blades move faster. However, if a motor rotates with higher RPM for a continuous period, heat will be generated which will affect the lifespan of the product.
Blades
The blades should be made up of high-quality stainless steel, as that material can serve for a long period. it will also retain its sharpness and shape that will give us the desired result.
Jars
The jars included in the grinder must be of stainless steel, as it will remain rust-free for a long time. In addition, you should look out for rubber gasket in the lids, suction grip bottoms of the jars while looking for an ideal grinder. The jars if having handles must be considered as a plus point because it will help you to easily move the jars.
Locking System
An additional yet useful feature is the auto-locking system. This feature makes sure that the jar doesn't automatically start which will prevent accidents at home.
Incher or Pulse
Incher or pulse or whipper switch helps us in making our grinder versatile in nature. As this switch can give a momentary action, we can easily make a beaten egg, cream, whipped cream, etc.
Noise Level (DB)
While buying a mixer grinder, the buyer should keep in mind, that no one would want a disturbing sound at their home produced by a machine. Therefore, you should actually be aware of the decibel of noise the grinder is going to produce while grinding and try to buy the lowest noise-creating appliance.
Overloading protection feature
The mixer grinder you are eyeing by now should consist of an inbuilt overloading protection feature, which will cut off the grinder from the supply in case of a power fluctuations so that the appliance will always be safe and never get damaged by more current flow.
If this feature is absent in a grinder, take a step back from buying that, as the motor will be burnt when the power surge happens.
Product Design
Look for a compact shaped product that can easily be stored in the kitchen. It should have a long wire to be flexible with the position, and dependant on the plug-point nearby place.
Also, buy such a product which adds to the beauty of your kitchen and as well as easy to clean. Generally, go for a tower or L-shaped product for easing the cleaning process.
The product body should be strong and have a vacuum bottom to get a grip to avoid slippage accidents.
Safety aspects
A mixer grinder is such an electrical appliance, which deals with water and electricity at the same time, hence do have high chances of getting short-circuited, so before buying check the earthing, power cords, plug pin, etc.
Warranty
To find the best mixer grinder in India, make sure the company is offering you a minimum of a warranty of 2 years on product and 2 years on the motor each. This will come in handy to get the appliance repaired in case of any defect arises.
Brand Name & Price
The brand name is such a thing that will add quality to your product. They might be a little pricey compared to the lesser-known brands, but they deliver what they speak for. Therefore, it is always better to go for a branded electrical appliance.
Coming to the price-point, you must always try to stay within your budget. You should compromise on a few unnecessary features that just add up to the final price.
What're Our Suggestions?
Never put hot contents inside the jars and grind, as it will have to tarnish the jar walls in no time.
After use, make sure to clean the jars and lids properly to avoid the deposition of ingredients.
After cleaning the grinder accessories, wipe them off of extra water and make sure they are dry before storing them.
While grinding dry and hard ingredients, sufficient water should be added to the jars.
The plug points must have proper earthing connections to prevent unnecessary shocks.
The mixer grinder must be in off state, not even the power supply button is on while adding ingredients to the jar.
The air inside the jars must be released out before start operating.
Always switch off the mixer grinder, if it is not in use.
FAQs for Best Mixer Grinder in India
1. Which are the best brands for grinders in the Indian market?
The trustworthy brands for grinders in the Indian market are Philips, Bajaj, Prestige, Butterfly, and Usha.
2. What is the difference between the grinders with different watts?
The more the watts of the grinder, the more efficiently it works. The powerful motors with more watts are used to grind tougher ingredients and to make dosa or idli batter. However, a 500-watt grinder serves the daily purpose in a household; a grinder of power 750-watt or more is needed for hard grinding of ingredients such as coconut, turmeric, gram, etc.
3. How many watts should a mixer have? How many watts are good for mixer grinder?
The number of watts in a grinder decides which variety of ingredients it can grind effectively. Although for daily household needs, even a 300-watt grinder can suffice. However, 500-watt is considerable as it can do multitasking and produce fine products.
4. Can we use a mixer grinder as a juicer too?
Yes, a mixer grinder can be easily doubled up as a juicer. You just need to cut the fruits or vegetables into small pieces and add them to the blender jar (biggest jar) with a little water and sugar, if needed and blend it then. Once done, sieve the contents, get rid of the residue and your juice is done.
5. What is the difference between a mixer and a blender?
A mixer does the blending of ingredients such as milk chocolate sugar fruits to produce a variety of milkshakes. Whereas grinder grinds solid ingredients to produce smooth pastes or fine or coarse-grained powders.
6. Is it safe to use a mixer grinder as we use both electricity and water in the same appliance?
Please make sure to use a grinder made up of ABS plastic material as that plastic being heat and shock-resistant. It also provides security to the grinder in case of any power fluctuations.
7. Is it required to hold the upper lid while grinding?
It is not always required to hold the upper lid while grinding but is preferable to do so, as the grip between the lid and the jar can lose contact by the vibrations caused while grinding. However, if we hold the upper lid during the grinding process, there is no chance of any slippage between the lid and the jar.
8. Why my grinder produces a burning sensation every time I use it?
This is very normal in all the grinders to produce a burning sensation during their first runs due to the varnish coatings on the motor body. However, this burning smell continues after several runs, better to get the grinder checked by the brand company.
9. Can you suggest some ways to reduce the noise produced by the grinder?
You can reduce the noise generated by the mixer grinder by following these below tips:
The grinder must always be kept away from the wall so that the vibrations do not resonate.
Always keep the grinder on top of a rubber mat.
10. What is the use of the wet grinding jar?
The wet grinding jar is used to make dosa or idli batter, rice and gram batters, purees, lassi, etc. It is generally the biggest jar in any mixer grinder.
11. What is the use of the wet grinding jar?
You can use the dry grinding jar to grind spices, turmeric, cashew, sugar grains and make powder.
12. What is the use of the smallest jar?
Chutneys and onion-garlic paste could be prepared with the help of the smallest jar.
13. Will it be okay, if we pour any hot food in the jars and grind them?
No, you should never grind hot food contents as it may damage the jar and its other components. If necessary, you should first bring down the temperature of the food around 80°C, and then grind the contents.
14. How to clean a grinder and its accessories?
You can wipe out the grinder body and parts with a damp cloth and a gentle liquid cleaner.
Another method to clean the jar is that, fill up the jar with soapy water, place the entire unit on the grinder body, use the Incheon button 5-6 times. Wash the jar with normal water, then dry the jar and lid completely before storing it.
Our Recommendations to Buy Best Mixer Grinder in India
Sujata SuperMix SM Mixer Grinder- Powerful Motor – Buy Now
Philips HL7756/00 Mixer Grinder- Air Ventilation Feature – Buy Now
Usha MG-2853 Smash Mixer Grinder- Trusted Brand – Buy Now
You May Also Like—
Summary
Reviewer
Review Date
Reviewed Item
Best Mixer Grinder in India
Author Rating